Chapman Freeborn charter over 20 flights carrying COVID-19 test from China to Austria
Over the past few months, Chapman Freeborn has worked with their client in Austria, Gebrüder Weiss, to transport COVID-19 test kits on over 20 charter flights.
A variety of aircraft have been used for the different transports, but a journey last week saw 110,820kg of test kits (equal to 804 CBM) travelling on an AN225, the largest aircraft in the world.
The journey started at Tianjin Binhai International Airport (TSN) where the test kits were loaded, and then onto two stopovers at Almaty International Airport (ALA) in Kazakhstan and Istanbul Airport (IST) before reaching their final destination of Linz Airport (LNZ).
The Chapman Freeborn team utilised their close network within China to ensure the handling at TSN went to plan, working with the Austrian Embassy in China to ensure the test kits would arrive in Linz on time.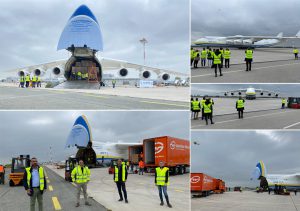 Tim Fernholz, Cargo Charter Broker at Chapman Freeborn Germany, explained, "Linz Airport is perfect for the AN225 as it has an extra wide runway measuring 60m, due to its former usage as a military airport. This was just the second time that the AN225 has landed here – the last was 18 years ago".
After their timely arrival in Linz, the test kits were distributed to pharmacies all across Austria by Gebrüder Weiss, who are the oldest transport and logistics company in the world.
Gebrüder Weiss said, "After initially working with Chapman Freeborn on this task and noticing how successful every charter was, we decided to work with them on an ongoing basis to distribute test kits across the country. They work with us closely, but also with all their contacts, meaning we can trust them to find solutions that ensure all our flights are just as successful as the last. There have been around 20 so far with more to come – this week more kits were transported on a B747F. We would not hesitate to recommend Chapman Freeborn."
To arrange your air cargo charter with Chapman Freeborn, get in touch with the team today at cargo@chapmanfreeborn.aero.