Chapman Freeborn transports election material to Haiti
Over the past two months Chapman Freeborn has transported various materials from Miami International Airport (MIA) and Johannesburg Airport (JNB) to Toussaint Louverture International Airport (PAP) in Haiti for use in their constitutional referendum.
The materials were transported on behalf of the client, Renform, beginning in May when 2,000kg of training materials went from Miami to Port Au Prince, Haiti, on a Saab 340 aircraft.
The following month the paperwork to be used in the election was loaded onto two British Airways B787 aircraft in Johannesburg, also to be flown to Port Au Prince. The cargo comprised of ballots and envelopes, totalling 60,544kg in 107 packages.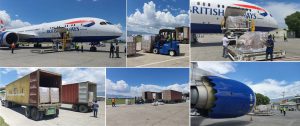 All the flights went smoothly and without delay, with the cargo arriving punctually in Haiti.
The Chapman Freeborn Cargo Team has over 45 years of experience in delivering a huge array of freight across the world, and always go above and beyond to ensure your shipments reach their destination on budget and on schedule. Get in touch today by emailing cargo@chapmanfreeborn.aero to find out how they can help you.