Celebrating Women in Aviation: Catriona Taylor, Operations Director at Chapman Freeborn
To celebrate International Women's Day at Chapman Freeborn we are shining a spotlight on women in aviation and the huge variety of roles available in the industry. Our Celebrating Women in Aviation series holds space for the experiences of our wonderful colleagues, giving you an insight into their roles, how they got to where they are today and their advice for other women and girls considering a career in the aviation industry.
Catriona Taylor has worked in aviation for over 25 years and has spent 16 of those at Chapman Freeborn. Prior to this she was worked within a Tour Operator and looked after tasks such as allocating seats for charter flight block bookings.
Her role as Operations Director entails Catriona being responsible for all operational aspects of the passenger charter business for the entire Group, "Day to day I carry out many tasks such as checking enquiries, overseeing contracts and checking they've been signed in line with procedures, and having regular contact with the teams around the globe". She particularly enjoys working with the global offices and getting to know her colleagues in countries all over the world.
Catriona has noticed that generally aviation is a very male-dominated environment, however she has not felt this at Chapman Freeborn. "I believe the imbalance stems from history and stereotypes, but there are now more and more women joining aviation. I have always had great support in my career from my female peers at Chapman Freeborn. They have always inspired me to excel in my career". She believes that other organisations need to embrace women in business and promote a working environment that is equal.
The camaraderie is Catriona's favourite thing about the aviation industry; "It's such a tight knit community and we have a lot of fun. They say once you're in aviation it's very hard to get out, and I believe that is certainly true!"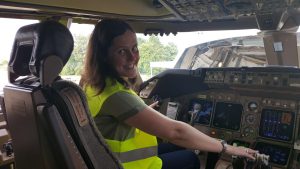 Catriona wants girls and women alike to remember that the aviation world is for anyone willing to work hard and stick to their dreams. "Despite it being a male world, know that you are just as capable and able to progress and excel as anyone! If I can do it then you certainly can!"