Celebrating Women in Aviation: Helen Stone-Ward, Legal Counsel at Chapman Freeborn
To celebrate International Women's Day at Chapman Freeborn we are shining a spotlight on women in aviation and the huge variety of roles available in the industry. Our Celebrating Women in Aviation series holds space for the experiences of our wonderful colleagues, giving you an insight into their roles, how they got to where they are today and their advice for other women and girls considering a career in the aviation industry.
Helen Stone-Ward's career in aviation spans over three years and began when she joined Chapman Freeborn as Legal Counsel. Her first aviation-related memory is of her 6th birthday, when her father bought her a helicopter flight experience at an airshow.
Prior to joining Chapman Freeborn Helen worked in the shipping industry, and it was the temptation of a new challenge that drew her to aviation. She now works on the legal team advising the brokers and the company with all contractual concerns, issues and queries.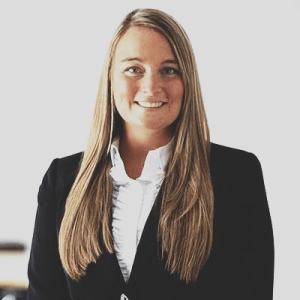 Helen particularly loves the variety that her role offers, "Varying challenges arrive on my desk daily and no two days are the same! I also enjoy the negotiation side of my job as well as being able to help the brokers arrive at the ideal commercial point, whilst providing the required legal coverage". She continued, "I enjoy being involved within an industry that is fluid and evolving, and it is very exciting to see how the industry deals with challenges it is faced with".
Her message to young girls and women who want a legal career within aviation is, "I would highly recommend undertaking your legal career within the aviation sector. It is extremely varied and challenging and allows you to think on your feet to make commercial decisions whilst fulfilling the legal requirements. Working within this fast moving, dynamic industry requires attention to detail and a broad skill set that allows you to deal with the added layers of complexity that pushes you outside your comfort zone."