Celebrating Women in Aviation: Jane Hossack, Group HR Manager at Chapman Freeborn
To celebrate International Women's Day at Chapman Freeborn we are shining a spotlight on women in aviation and the huge variety of roles available in the industry. Our Celebrating Women in Aviation series holds space for the experiences of our wonderful colleagues, giving you an insight into their roles, how they got to where they are today and their advice for other women and girls considering a career in the aviation industry.
Jane Hossack began her career in aviation almost ten years ago when she joined Chapman Freeborn as Group HR Business Partner, where she has now worked her way up to Group HR Manager. Prior to this she had always had an interest in air travel, and she studied travel and tourism at college and university to build upon her love of exploring new countries and cultures.
However, it wasn't until her interview for her role at Chapman Freeborn that she really considered a career in aviation. Listening to the passionate and exciting way her interviewer talked about aviation resulted in Jane left the interview knowing it was something she wanted to be a part of.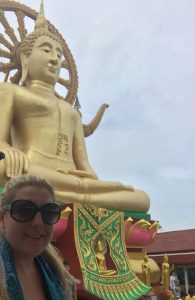 "I have worked in a variety of industries including education, recruitment, construction and insurance. None of these have interested me like aviation does", Jane explained. She continued, "With HR you can work in any industry, however aviation is fast-paced, ever-changing and complex, which makes my role thought-provoking and a very rewarding role to be in. This is what has kept me in the industry for so long."
The focus on Jane's role is to support the business in delivering people-related processes, vision and strategy across the company, and aligning that with varying legislations and cultures. "I spend my time consulting with the leadership teams and staff on strategic planning and serve as a link between the organisation's management and its employees. My role has a big focus on attracting and retaining top talent."
Jane also works hard to make Chapman Freeborn a great place to work, "A big part of my role is to work with managers to create a fun environment that people want to work in and development their careers in". This is one of Jane's favourite aspects of her job, as well as the huge variety she encounters every single day; "One day I can be working on the company's training agenda, the next I can be focusing on reward, staff motivation, employment contracts, health and safety, on-boarding, supporting change, resolution management…the list is endless".
When she's not at work, Jane loves to travel by plane whenever the opportunity arises. "I tend to get to airports hours before a flight, just absorbing the bustling airport environment – watching the planes take off whilst enjoying a coffee in the lounge is something I could do for hours and hours".
Jane believes there is still a long way to go to achieve full equality of rights and opportunities between men and women, not just in the aviation industry but across the whole world. She explained, "It is important for all leaders to work together to support gender equality and diversity in general, to create a company culture that is committed to ensuring gender equality is carried through recruitment and when supporting staff in the workplace throughout their employment. All staff should work together to support a gender-equal workforce, treating people with respect and showing an openness to learning and change."
Jane wants to spread the word to young girls and women alike about the variety of roles available in aviation, "There are a lot of opportunities across a wide range of job roles that not only allow you to find your niche, but provide opportunities to try new roles that allow your career to grow throughout the industry."
She ended by saying, "If you want to work in an industry that challenges you, provides you with variety and offers opportunities that take you out of your comfort zone, then aviation is the place to be."