Celebrating Women in Aviation: Julia Postnikova, Charter Contract Manager at Chapman Freeborn
To celebrate International Women's Day at Chapman Freeborn we are shining a spotlight on women in aviation and the huge variety of roles available in the industry. Our Celebrating Women in Aviation series holds space for the experiences of our wonderful colleagues, giving you an insight into their roles, how they got to where they are today and their advice for other women and girls considering a career in the aviation industry.
Julia Postnikova has worked in the aviation industry for 17 years, 14 of which have been at Chapman Freeborn.
Her aviation career began when, during her final thesis at university, she needed to complete an internship. She found one at Aviacon Zitotrans, and at the end of her very first day they offered her a job instead! Julia stayed at this company for 3 and a half years, starting in operations and then moving to charter sales, regulations and accreditations. "During this role I went on a few very memorable round-the-world business trips with cargo aircraft. It is incredible when you can combine your job with travel. I love travelling, learning new things, trying new things…working in aviation gives me all of that".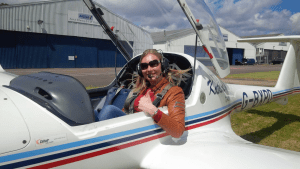 A memory that particularly stands out for Julia from the start of her career in aviation was the first time she flew in the cockpit of an aircraft, "It was like what you see in the movie, and I was able to see what was happening behind the closed doors".
Julia joined Chapman Freeborn in 2007 after receiving her Master's degree, and now works in humanitarian charters. "Some of the things I take care of include fixing charters and projects, following up daily with those involved, facilitating processes such as pre-payments and negotiations, and keeping the clients updated".
Her role can present challenges, but Julia enjoys the fact that "every day is different. Even if I think I managed to foresee all the eventualities, something extraordinary can happen. Aircraft do not have days off! My favourite part of my job is when I see all my efforts result in a successful operation".
Julia cannot see herself ever leaving the aviation industry, "I got into this industry by chance, but it fascinates me and I do not think I will ever be able to leave. It's exciting and diverse, from aircraft operations to maintenance to regulations to ground services to charters…if you get into this industry and you like it, you will never leave."