Celebrating Women in Aviation Series: Ana Bocchini, Cargo Charter Broker at Chapman Freeborn
To celebrate International Women's Day at Chapman Freeborn we are shining a spotlight on women in aviation. Our Celebrating Women in Aviation series holds space for the experiences of our wonderful colleagues, giving you an insight into how they got to where they are today and their advice for other women and girls considering a career in the aviation industry.
Ana Bocchini has been a Cargo Charter Broker at Chapman Freeborn for four years. She didn't initially plan to have a career in aviation but loves to travel so finds the aircraft and the process of making the flights happen very exciting. Her first aviation memory was at just 6 years old, walking through the terminal in her home country of Brazil with a flight attendant – "We called them stewardesses then!" – before boarding her flight to the United States.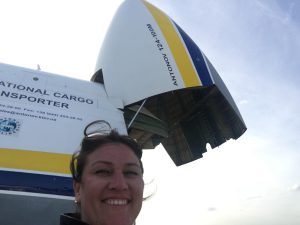 Before starting her career as a broker Ana worked in a finance department, also in the aviation industry. However, she loves brokering because, "the project side thrills me! I love all the moving pieces and putting them together for the client in a way that makes it look easy. There are a lot of pieces to make fit; a lot of people and places involved. The more complex, the more exciting it is."
Ana loves the feeling of satisfaction at the end of a busy day after she has made a project come together; "My favourite part of my role is the satisfaction when we deliver, and the client says they're so pleased and that we did an excellent job."
When presented with the statistic that women in aviation are few and far between, Ana was not surprised that this is still the case. "Not too long ago women weren't allowed to take on some positions in aviation. However, women certainly have the ambition, drive, sheer will and brain power. We are equally as smart as men."
Ana suggests that any woman considering a career in aviation should choose wisely; there are an abundance of roles out there suitable for women – any role, in fact. So Ana advises you think about what it is you want to do and then go for it!