Chapman Freeborn Belgium transports urgent car parts to the USA
Chapman Freeborn has recently flown over 5 tonnes of time-critical cargo from Germany to the USA in a B747 freighter.
The car parts were divided across 6 wooden crates, all of which were collected from the pick-up point by two trucks organised by Chapman Freeborn Belgium broker, Wannes Elias.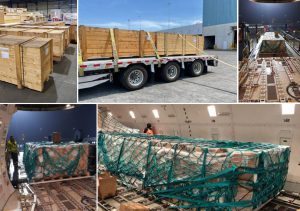 After a smooth journey via road to the warehouse, there was an unexpected change to the timings which meant the departure was delayed by a full day. However, thanks to excellent organisation from Wannes, there was no change in arrival time even with the new departure date.
The cargo arrived at its destination on the East Coast, USA punctually, and the client thanked Wannes and the Chapman Freeborn team for their clear communication and for meeting the original estimated arrival time, "even with a delayed flight!"
Chapman Freeborn's Cargo Team are global experts in the transport of time-critical cargo, heavy and outsize equipment, humanitarian goods and all other types of freight. They'll go above and beyond to get your goods to their destination on time, every time. Get in touch today by emailing cargo@chapmanfreeborn.aeroto find out how they can assist with you.