Chapman Freeborn charters Antonov AN-12s to deliver cargo to West Africa
This month Chapman Freeborn South Africa flew a large amount of cargo to West Africa in two Antonov AN-12 aircraft.
The AN-12 is a versatile aircraft able to carry outsized and heavy items. This makes it ideal for use in operations for the mining, oil and gas industries, as the associated equipment is often extremely large and heavy. Indeed, in this specific operation one of the items alone weighed over 6 tonnes! The cargo across both flights totalled almost 18,000kg, making the AN-12 and its outstanding hauling capabilities ideal for the job.
The flights departed from Johannesburg OR Tambo International Airport (JNB) on two consecutive days, each flying to a different airport in West Africa.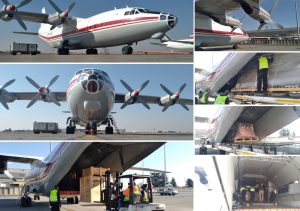 The Chapman Freeborn cargo team pride themselves in finding the perfect aircraft for your requirements, whether that be one of the largest aircraft in the world, or a small jet. Our experts will ensure that your cargo is transported safely and efficiently.
Get in touch today by emailing cargo@chapmanfreeborn.aero to find out how our cargo team can help you.