Chapman Freeborn charters flight to France for 40 party guests
Last month the Chapman Freeborn Passenger Team executed a group air charter return flight from London Biggin Hill Airport (BQH) to France for 40 passengers attending a family celebration.
The group travelled in a Jota Aviation Avro RJ85 aircraft to their destination, but not before receiving the VIP charter treatment to get their party started in style. Senior and Trainee Passenger Charter Brokers Joe Mortimer and Oliver Gates arranged a champagne reception for the guests at Biggin Hill airport lounge, before the passengers walked just 1 minute to their aircraft on the apron outside.
The group received a wonderful surprise when the aircraft, which was originally supposed to be configured as a 95-seat economy layout, was changed to a 50-seat business configuration for them at no additional charge.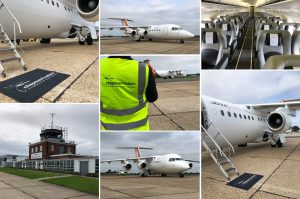 Upon their arrival back in the UK, Chapman Freeborn arranged 12 taxis to collect all guests from the airport, ensuring they arrived home hassle-free and without having to navigate the logistics of airport parking or public transport.
Chapman Freeborn would like to thank Jota Aviation for collaborating with them on this charter.
Whatever your group is travelling for, the Chapman Freeborn Passenger Team will go above and beyond to ensure every detail of your journey runs smoothly. Get in touch today at pax@chapmanfreeborn.aero to find out why we are regarded as the best in class when it comes to organising group charter flights.