Chapman Freeborn delivers COVID-19 relief to Nepal
Chapman Freeborn has transported 13 tonnes of relief items to be used in the fight against COVID-19 from Sharjah International Airport (SHJ) to Tribhuvan International Airport (KTM).
The cargo comprised of PPE kits, gowns, gloves and facemasks and travelled on two Air Arabia A320 passenger aircraft that were converted for cargo usage.
The Chapman Freeborn UK and UAE offices worked closely together to arrange the flights and to ensure they were a success. In Dubai the team utilised every possible space on the aircraft for the cargo, including the lower deck, seats and overhead lockers to fit the boxes in efficiently.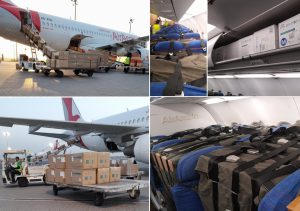 Additionally, customised seat bags were created to secure and protect that cargo that was situated on the passenger seats.
Thanks to the excellent teamwork and coordination from Olga Kovalova from Chapman Freeborn UK, and Vikas Chaturvedi and Rajesh Patel from Chapman Freeborn UAE, the operation went seamlessly. The client was very happy with such a punctual schedule in the difficult travel circumstances that the pandemic has presented.
Since the start of the pandemic Chapman Freeborn has delivered thousands of tonnes of life-saving PPE and medical equipment all over the world, including face masks, nitrile gloves, respirators and even a mobile hospital. Our expert Cargo Team is on-hand to ensure your precious cargo will arrive at its destination easily and efficiently. Get in touch by emailing cargo@chapmanfreeborn.aero to find out how we can help you.