Chapman Freeborn flies 100 tonnes of oxygen cylinders to India
Chapman Freeborn has urgently transported 90 pallets of empty oxygen cylinders from King Hahd International Airport (DMM), Saudi Arabia to Netaji Subhas Chandra Bose International Airport (CCU), India.
The oxygen cylinders are vital supplies in tackling the COVID-19 pandemic, so two Chapman Freeborn offices joined forces to ensure the critical cargo arrived in India as quickly as possible.
Chapman Freeborn Commercial Manager Middle East & India, Vikas Chaturvedi, and Cargo & Passenger Charter Manager Australia, Michael Amson worked together with Qatar Airways to coordinate the B777F that transported a total of 1,100kg of air freight from Dammam to Kolkata.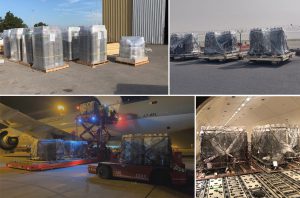 Since the start of the pandemic Chapman Freeborn has delivered thousands of tonnes of life-saving PPE and medical equipment all over the world, including face masks, nitrile gloves, respirators and even a mobile hospital. Our expert Cargo Air Charer Team is on-hand to ensure you precious cargo will arrive at its destination easily and efficiently. Get in touch by emailing cargo@chapmanfreeborn.aero to find out how we can help you.