Chapman Freeborn flies an orchestra and their instruments to Greece
At the beginning of the month Chapman Freeborn created the perfect solution to fly 80 passengers and their respective instruments from Pisa (PSA), Italy to Athens (ATH), Greece for their performance at the Athens and Epidaurus Festival.
The Festival, which runs from 1st June to 10th October, is an important annual event in Greece's arts calendar and has been for over 60 years. After a parred-back version last year in the midst of the COVID-19 pandemic, Chapman Freeborn was delighted to help in transporting the orchestra there this year.
Despite the orchestra comprising of 80 passengers, Chapman Freeborn organised a 189-seater Boeing 737-800 for the journey, in order to accommodate 5 horns, 2 bassoons, 3 trombones and 6 cellos in their very own seats! This is because the musicians wanted to keep such valuable and precious possessions close by at all times – something that can be easily arranged by Chapman Freeborn on a charter flight.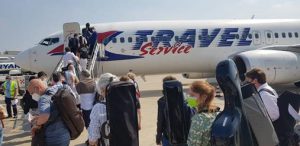 By working closely with the handlers and security teams, Chapman Freeborn ensured that everyone was prepared for the beautiful and fragile instruments. The journey went perfectly, with all passengers and their instruments arriving happily and safely.
We hope that everyone performing in and attending the Athens and Epidaurus Festival has a wonderful time!