Chapman Freeborn flies elite football club to the UEFA Women's Champions League
In August Chapman Freeborn were proud to fly Danish elite football team HB Køge from Copenhagen Airport (CPH) to Vodochody Airport (VOD) for their qualifying match in the UEFA Women's Champions League.
HB Køge play in the Elitedivisionen – the highest-level league for women's football in Denmark. Having won the title this year, this is the first time in their history that they have also achieved Champions League qualification.
The team's flight was arranged by Kim Borgaard at Chapman Freeborn Scandinavia. Kim was especially delighted to work on this flight, explaining, "This charter was extraordinary for me. I had the pleasure of sending HB Køge on their very first European challenge, a team that comes from the same town as me and whose Business Network I am a part of. I follow this team closely and I hope I helped them have a trip to remember."
Kim tailored a memorable travel experience by arranging a special surprise for the team – branded headrests and a sticker on the ATR72-500 aircraft.
Per Rud, CEO for HB Køge, said that, "Chapman Freeborn did a fantastic job with this charter. From the first planning meeting they were responsive, followed up with everything we needed and had a proactive approach to our requests. Not only that but Kim went above and beyond with the extra touches to make this a special journey for the team. The flight was a great way to start our competition and we are looking forward to planning our next flight with Chapman Freeborn."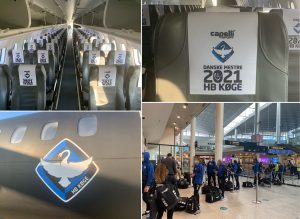 Chapman Freeborn would like to congratulate HB Køge, who went on to win their qualifying match in Prague 1-0! They have since also won 2-0 and are through to the Group Stage.
With decades of experience in coordinating bespoke itineraries for matches, tournaments and tours, Chapman Freeborn has a proven track record in going above and beyond to ensure our clients' needs are met – whatever the sport and wherever the destination.
Get in touch with the team today by emailing pax@chapmanfreeborn.aero to arrange your next sports charter flight.