Chapman Freeborn Flight Support assists with Fokker 70 maintenance and servicing
The Chapman Freeborn Flight Support Team has assisted in a Fokker 70 aircraft having a much-needed overhaul with some major maintenance work.
This particular aircraft is one of the few examples of its kind that is still being used regularly by an airline, having been designed for this use in the late 1980s.
The aircraft, which is stationed in Curaçao, had to reach the Fokker plant in the Netherlands for the work to be completed. The client contacted its Dutch partner, My Air Team, to organise this complicated flight, who then contacted Chapman Freeborn Flight Support to assist with the planning and approvals process.
The team carefully planned the routing, arranging for it to fly over the Caribbean, up the East Coast of the USA and Canada, and over the Atlantic via Greenland and Iceland, where it stopped for refuelling before travelling its final leg to the Fokker base in the Netherlands.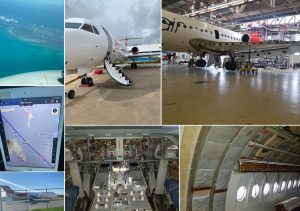 Chapman Freeborn Flight Support monitored the flight throughout its entire journey, ensuring the aircraft was able to operate to schedule throughout. It arrived punctually in the Netherlands after its journey of over 5,000 miles.
After the required maintenance and servicing has taken place the Fokker 70 will return to Curaçao to continue its airline operations.
No matter how complex a brief or a routing, the Chapman Freeborn Flight Support Team will assist with ground handling and fuelling to aircraft catering and ground transfers, and everything in between. Get in touch today by emailing flightsupport@chapmanfreeborn.aero to find out more about our global round-the clock support and to see how our team can help you.