Power in relationships
Chapman Freeborn Americas Cargo Team were recently called late one Friday evening with an urgent request. A North American energy client needed to get machine parts and equipment delivered within 48 hours. If operations were to stop, it could cost hundreds of thousands of dollars a day.
An MD 80 aircraft was chartered to pick up the 1400 lb. cargo at a US airport and deliver to a South American airport. Landing permits from the local Civil Aviation Authority (CAA) are also required by most countries outside the United States. This permit is our responsibility and without this, we cannot land.  A quote was quickly provided; the client approved it, but the Civil Aviation Authority was already closed for the weekend.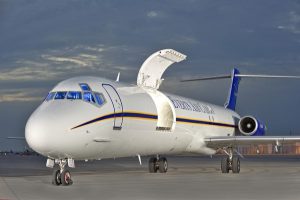 The 48 hour clock was ticking on this job as the Cargo team worked with Chapman Freeborn Operations team for the necessary permits; the client also called their local contacts. We heard back from a friendly forwarder, who knew someone in the local CAA. By 1 a.m. on Saturday, we had submitted all the required documentation. At 5pm, we got word that the head of the CAA had come in to the office and processed the permit to land.
The Chapman Freeborn Cargo Team continued at a brisk pace for the next 24 hours. The chartered aircraft flew to pick up the shipment, stopped for crew rest and continued on to a flawless delivery. The client's operation never skipped a beat.
Chapman Freeborn fly all over the world for our client's business and have solved millions of logistical puzzles. With over four decades of experience, we have established solid industry relationships and a strong reputation. In cooperation with our clients and friendly forwarders, we work toward the on-time delivery for our clients all day, every day.