Chapman Freeborn Private Jet team transports client to essential business meetings with just two days' notice
Chapman Freeborn is passionate about helping in as many ways as possible during the pandemic, and last week they supported a British business through a time-sensitive situation. The client needed to travel from the Midlands to the Northeast of the UK to attend several business-critical meetings, and the Chapman Freeborn Private Jet Team was able to make it happen.
Utilising their close industry contacts, the Team quickly tracked down an aircraft perfectly suited for the operation. Chapman Freeborn VIP charter broker Hayden Edwards was not only able to source a beautiful King Air 250 GT, but he also secured it at an excellent price for the client.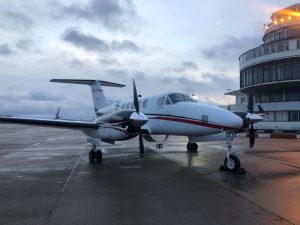 The client's flight departed as scheduled and they were able to attend their meetings effortlessly and efficiently, without delay.
The COVID-19 pandemic is causing problems the world over, but even during these tough times Chapman Freeborn is keeping things moving; whether that be by transporting people, cargo or animals.