Chapman Freeborn Spotlight: Cargo Charter Manager South Africa, Gerhard Coetzee's favourite aircraft – the Pilatus PC-12
At Chapman Freeborn our colleagues are our greatest asset. Not only are they excellent at their jobs – wherever that may be within the business – but they are all passionate about aviation.
In our new blog series, we will be speaking to people across the Chapman Freeborn Group, finding out where their specific passions and interests lie.
We're kicking off by asking Gerhard Coetzee, Cargo Charter Manager South Africa to tell us about his favourite aircraft.
Hi Gerhard! Thanks for being the first person to take part. Is it true that the idea for this series originally stemmed from something you said?
Gerhard: Yes, it is true! As Cargo Charter Manager, I have transported countless different things in countless different aircraft. But I have a special place in my aviation heart for the Pilatus PC-12 and wanted to share some of the reasons why.
Let's start at the beginning…what is it about the PC-12 that interests you so much?
In the past I have worked as a qualified weight and balance, load and trim officer on the McDonnel Douglas MD11-Freighter and the Boeing 747-400 Freighter series, as a loadmaster in layman terms. These are enormous aircraft, with payloads of 94,000kg and 120,000kg respectively. And I was obsessed with them! So, it was a surprise to me when I fell in love with the PC-12. As a single-engine turboprop aircraft, it's much smaller than the huge aircraft I have loved in the past, but the PC-12 is so versatile and reliable that I find myself besotted with it every single time I've chartered one.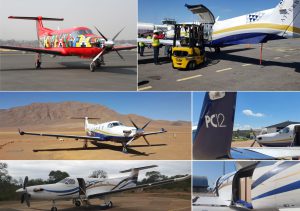 What makes it such a versatile aircraft?
The PC-12 is so versatile because despite having great volume and loading capacity for a wide variety of air cargo, it is small enough to be able to land effortlessly in remote locations. As long as there is a safe strip to land on and take off from, the PC-12 will get the job done.
Can you give some examples of when Chapman Freeborn have chartered the PC-12 for operations in remote places?
Just this year the Cargo Team in South Africa have used this aircraft nearly 30 times! Many of those operation have been to move cargo such as soil samples, marine biological samples, dry ice and shipments for the mining, oil and gas industry. The nature of these resources usually means that such operations have to overcome not just remote locations, but also very challenging terrain. The PC-12 rises to the occasion every single time.
 Can you share some other examples of charters you've operated with the PC-12?
As this aircraft is ideal for the urgent go-now flights, the Chapman Freeborn Cargo Team regularly use the PC-12 for time-critical and life-saving operations. We frequently use it to move parts and spares for the automotive industry, and also to transport essential pharmaceutical and relief cargo within the South Africa region.
How would you summarise the benefits of the PC-12?
I believe that the Pilatus PC-12 fully deserves its reputation for outstanding versatility, performance, reliability and operational flexibility. Every time we use one I am reminded of why I love it so much, as are our clients. Wherever you need your cargo to reach and no matter how urgent your flight is, the Chapman Freeborn team is here to help. And sometimes (if you are lucky!)  that will be with a PC-12.
Get in touch with the Cargo Team today at cargo@chapmanfreeborn.aero to arrange your air cargo charter today. Whether a PC-12 is ideal for the transport, or another aircraft will be a better fit, our expert brokers will tailor the perfect solution to your requirements.