Chapman Freeborn support Rugby Club's generosity to transport food during civil unrest in South Africa with just 24 hours' notice
Unrest and violence has erupted in South Africa. The news headlines have depicted mages of burning buildings, looting and destroyed shopfronts, primarily in KwaZulu-Natal. The unrest has made it incredibly difficult and dangerous for locals to get food or vital supplies.
Just a few days ago Chapman Freeborn South Africa received a message from The Sharks, a professional rugby franchise based in Durban, KwaZulu-Natal. The Sharks wanted to charter a flight to deliver essential food supplies to their team and families and their staff, ensuring they are looked after during this turbulent time.
With just a day's notice Chapman Freeborn South Africa arranged for the flight to take place, with Cargo Charter Manager Gerhard Coetzee sourcing a Pilatus PC12 aircraft to travel from Bram Fischer International Airport (BFN) to King Shaka International Airport (DUR) with the supplies. The vital cargo totalled 950kg across 92 boxes and contained essentials such as milk, butter, meat, rice and maize.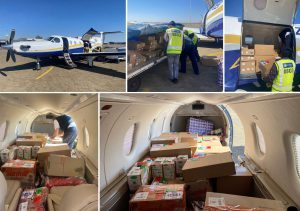 Gerhard explained, "It was a pleasure to assist The Sharks in this operation, and the entire process went seamlessly, from the planning to touchdown in Durban. It all took place in less than 24 hours, and none of it would have been possible without the quick responses and support of the operator and the ground staff in both airports. Being part of assisting our country during these unfortunate events makes Chapman Freeborn South Africa very proud to be part of a solution benefiting our fellow citizens".
Chapman Freeborn pride ourselves on our ability to react rapidly to emergency situations – including setting up time-critical flights outside of normal working hours.
To find out more get in touch with our cargo team at cargo@chapmanfreeborn.aero.