Chapman Freeborn transport time-critical cargo within 24 hours – no mean feat and in a mean looking aircraft!
Last week the Chapman Freeborn Cargo Team received a request from a client for an important and time-sensitive job; they needed ship spares transported from Rotterdam to PDL Ponta Delgada in the Azores as soon as possible.
Chapman Freeborn cargo charter broker Francois de Wet immediately got to work, and after scouring the area located an AN26 aircraft in OST Belgium, just 250km from where the ship spares were currently located in Rotterdam. The aircraft was perfect for the operation, so after receiving confirmation from the client, Francois proceeded to secure the aircraft and obtain the appropriate permit applications.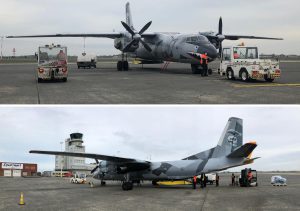 Due to the weight of the cargo, the carrier requested a metal sheet to assist with the loading process. This was promptly sourced by Wannes Elias, based at the Chapman Freeborn Belgium office, who also made the necessary arrangements with the handling agent at OST to receive the cargo from Rotterdam and get it airside as quickly as possible.
Thanks to the hard work and organisation of Francois, Wannes and the Chapman Freeborn Cargo Team, the cargo arrived at OST the very next day. It was speedily screened and loaded and the flight took off promptly, landing ahead of schedule the very same evening.
Find out more about how the Chapman Freeborn Cargo Team works and what they can do for you by watching our short video.