Chapman Freeborn transport two passengers and their VIPs (Very Important Pets) from Dubai to their new home in Munich
Chapman Freeborn is proud to transport passengers, cargo and creatures of all descriptions. Sometimes it's people, machinery, livestock or medication, and sometimes it's VIPs: Very Important Pets.
Recently Chapman Freeborn transported two passengers, their 6 cats and their dog from Dubai to Munich. All of these lovely pets were rescued over the years from the streets by their caring owners, who did all they could to ensure their beloved animals had safe and comfortable journey to their new home in Munich.
By chartering a private jet the passengers could rest assured that their pets would be with them for every moment of the 6 hour flight, rather than being frightened and confused in the cargo hold of a scheduled flight.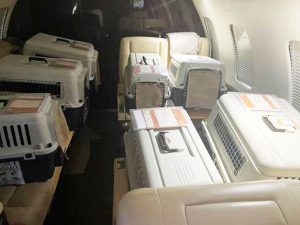 The pets all had the necessary passports, vaccine records and microchips to make the journey from the Middle East to Europe. Chapman Freeborn then coordinated with the operator and the handler in Germany to ensure the German authorities gave the required clearance for them to fly.
The entire family – humans and pets alike – arrived in their new home of Germany safely and together in a Challenger 605 aircraft.
There are many reasons to charter a private jet and travelling with your pets by your side is just one of them. Many owners find the uncertainty and anxiety of having their animals in the cargo hold, where they cannot see and reassure them, too stressful and worrying, in which case chartering a plane is the perfect solution.
Get in touch today if you think you and your pets could benefit from this option.
pax@chapmanfreeborn.aero
+44 (0) 1293 839 186