Chapman Freeborn transports 650 passengers from Birmingham, UK to Nairobi, Africa
At the start of October, Chapman Freeborn chartered 3 one-way flights on behalf of a high-profile client, transporting a total of 650 passengers from the UK to Africa.
The flights took place on a Privilege Style B767-300ER aircraft on the 4th, 6th and 8th October, departing from Birmingham Airport (BHX) and making the almost 9-hour journey to Jomo Kenyatta International Airport (NBO).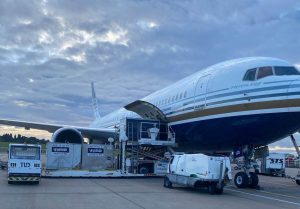 Occasionally unforeseen circumstances arise within the aviation industry. When this happens, the experts at Chapman Freeborn have decades of knowledge and experience which enables them to navigate obstacles and resolve issues quickly and effectively. During this operation, the Chapman Freeborn team tackled some challenges related to permits and loading, ensuring that the passengers arrived at their destination to schedule.
Chapman Freeborn Senior Passenger Charter Broker, Preslava Ivanova, would like to thank Vincent Essex from Arvin Aviation for his support on the ground during the flight on 8th October.
With Chapman Freeborn ready to assist you, group air travel has never been easier. You pick your schedule, aircraft and destination, and our expert Passenger Team will take care of every detail along the way. Get in touch with them today by emailing pax@chapmanfreeborn.aero.