Chapman Freeborn transports aircraft engine across India to help with an AOG
Some operations are harder than others, and when the cargo is as fragile and high value as aircraft engines, a very specialised handling process is required. Chapman Freeborn recently conquered this, and all under strict time constraints.
Chapman Freeborn was contacted because there was an AOG (aircraft on ground) incident at a challenging airport in North India. The client urgently needed a new engine delivered from Delhi (DEL), and for the damaged engine to be returned.
This required impeccable teamwork from Chapman Freeborn, as not only were permits needed, but there were also legal and compliance issues to address, expertly dealt with by Chapman Freeborn Directors Pierre Van Der Stichele and Daniel Carriett. Additionally, ground time was restricted meaning that only daytime operations were permitted.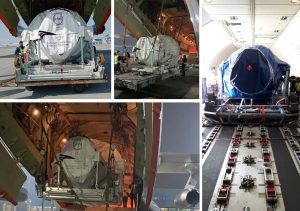 The groundwork had to be precise and efficient, as an AOG can be incredibly costly in any situation and the knock-on effects can be drastic. But with over 47 years of experience, the Chapman Freeborn team was able to transport the new engine carefully and promptly in an Ilyushin 76, significantly reducing the client's stress.
Chapman Freeborn demonstrate once again that they are the global aircraft charter specialists of choice, whatever or whomever you need to be transported.