Chapman Freeborn transports critical supplies for the power industry with only 72 hours' notice
At the start of October Chapman Freeborn transported urgent cargo from Sharjah International Airport (SHJ) to East Africa in an IL-76TD aircraft.
The cargo comprised of nearly 35 tonnes of oil drums to be used for power generation and was initially intended to travel via sea freight. However, delays resulted in the client requesting air charter instead, and with just 72 hours' notice Chapman Freeborn Commercial Manager Cargo Middle East & India, Vikas Chaturvedi, mobilised the flight.
Despite the short time frame and it being a weekend, the permits were all secured within just 48 hours to ensure this critically important equipment could be delivered for the power sector. Loading presented a challenge, as the cargo was heavy and unstackable due to its shape, however the crew completed this successfully under the supervision of Chapman Freeborn Operations Manager, Rajesh Patel.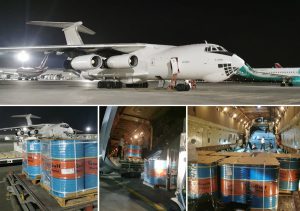 The client was very happy with the punctuality and promptness of the operation, especially considering that Chapman Freeborn was able to secure the permits so quickly over the weekend.
The Chapman Freeborn Cargo Team will go above and beyond to ensure that your cargo arrives efficiently and punctually, working to overcome time constraints and any other challenges that may arise. Nothing is too large, too small or too difficult. Get in touch with the team today at cargo@chapmanfreeborn.aero.