Chapman Freeborn transports nearly 60 tonnes of rapid COVID-19 tests to Nuremberg, Germany
Over the past few months Chapman Freeborn has operated several flights between Shenzhen Airport (SZX) China and Nuremberg Airport (NUE), Germany that has seen almost 60 tonnes of rapid COVID-19 tests delivered to the region.
The Airbus A330s used for the flights are usually passenger aircraft, however were converted into cargo aircraft for the purpose of this operation.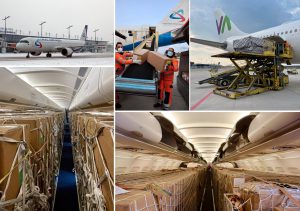 Nuremberg Airport is operational around the clock to ensure that vital ambulance, rescue and cargo flights for the Nuremberg Metropolitan Region can take place, and this huge delivery of rapid COVID-19 tests is another crucial resource for the area.
Chapman Freeborn's Cargo Team are global experts in the transport of time-critical cargo, heavy and outsize equipment, humanitarian goods and all other types of freight. Get in touch today by emailing cargo@chapmanfreeborn.aero or calling +44 (0) 1293 832 675 to find out how they can assist with your air cargo requirements.