Chapman Freeborn uses the TUI fly B767-300, converted from passenger aircraft to cargo aircraft, for the first time
Recently Chapman Freeborn was delighted to charter their very first TUI fly B767-300 passenger aircraft – but with cargo instead of seats.
The German client needed 1,400 boxes of COVID-19 test kits transported from Beijing Capital International Airport (PEK), China to Linz Airport (LNZ), Austria, and Chapman Freeborn was the perfect choice for the operation. Since the pandemic began, they have led the way in converting passenger aircraft into cargo aircraft to overcome the challenge of scare air cargo capacity and support the global air cargo market when it has needed it most.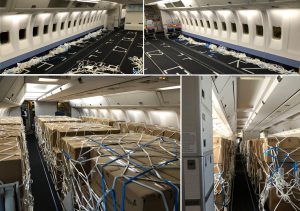 The operation from China to Austria went perfectly to plan in the converted aircraft – which Chapman Freeborn refers to as the 'preighter', as it is a hybrid of a passenger and freighter – and both TUI and the client were happy with the smooth and efficient transport.
To find out how Chapman Freeborn can help you with your cargo transportation requirements, get in touch with the team today by emailing cargo@chapmanfreeborn.aero or calling +44 (0) 1293 832 675.