Chapman Freeborn's guide to the best and easiest safari travel
Africa is a diverse and fascinating continent which offers a whole host of unique experiences to suit all manner of interests and tastes. One of these things is safari.
Safari trips provide the incredible opportunity to not only get up close to some of the most beautiful and rare wildlife on the planet, but also to see the wildlife in its indigenous habitat. However, you cannot go into these trips lightly; it is vital to carefully plan, ensuring that you go at the ideal time of year and that your transportation will get you to exactly where you need to be.
Chapman Freeborn's team of expert charter brokers include people based locally in Africa who have decades of safari charter experience behind them. With their help, travel agents, tour operators and other businesses who book safari trips for their clients can be sure that the flights are taken care of, including the ideal aircraft and a tailored travel schedule.
When and where?
Different safari destinations have different optimal times to visit to increase your chance of seeing the 'Big Five' (lion, leopard, rhinoceros, elephant and buffalo) and beyond.
In South Africa the drier winter months spanning from May to October are the best time for game viewing in the Kruger, Madikwe, Pilanesberg and KwaZulu-Natal regions. This is because this time of year steers animals to reliable water sources, and the sparse vegetation optimises viewing conditions.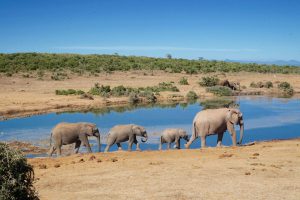 Kenya and the major Tanzania safari areas are best visited between January and the end of March, and then between June and October when the climate is mild and dry. However, the short rainy season between November and December can also be a great time to visit.
Namibia can be visited all year round, however its dry season is June to October, and this considered the best time to visit in terms of wildlife viewing in all of its parks, especially Etosha.
The walking safari bush camps in and around South Luangwa in Zambia are open for six months of the year during its dry season, which is from June and November.
Finally, the Great Migration in the Serengeti takes place in November and December. Over the following months the grasses in the south of the Park are lush from the rain, which draws around two million wildebeest (including half a million calves), hundreds of thousands of zebra, gazelles, lions and even thousands of crocodiles to the area. The Great Migration is considered one of the Ten Wonders of the Natural World, so it's important to organise your trip with a provider who can give you the best chance of witnessing this spectacular event.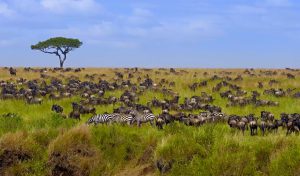 How should I travel?
When travelling for a safari there are many things to consider. Firstly, there are noise restrictions in place over game reserves, so the aircraft must adhere to this. Secondly, scheduled flights may not have a routing that suits your requirements.
Chartering a flight means that not only can you be confident that the journey has been arranged by experts in safari travel, but that you can depart from your chosen airport and even travel in an aircraft that can land on your chosen safari lodge's airstrip.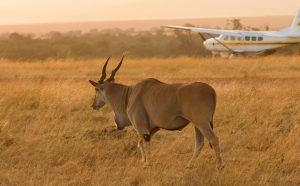 Whether it's 100 passengers travelling to the same country and then heading their separate ways, an organised group tour or a small family holiday, Chapman Freeborn will create a bespoke charter flight to fit your requirements.
Get in touch with our team at africa@chapmanfreeborn.aero today to work with our safari experts on the perfect passenger charter solution.