City guide: Cape Town, South Africa | Private jet charter
Located on the south-western tip of South Africa between the mountains and the Atlantic Ocean, Cape Town is the country's second largest city and offers visitors an intoxicating mix of city and countryside attractions.
Cape Town's botanical gardens, white sandy beaches and iconic Table Mountain provide a dramatic backdrop to this beautiful coastal city with its rich cultural life and historical legacy, world-class restaurants and myriad outdoor activities.
Top five must-see sights and attractions
Table Mountain
Table Mountain is Cape Town's most visited attraction and its flat-topped iconic summit dominates the city, providing the best views of Cape Town and its surrounds. Pick a day when the cloud cover – known as the 'Tablecloth' has cleared – and take the revolving cable car to reach the 1,087m summit in just 7 minutes.
There's a café and viewing platform at the top and three walking trails which will give you views of the local flora as well as local animals such as baboons and rock hyraxes.
You can also hike up Table Mountain – allow 1.5 to 4 hours depending on the route chosen and your fitness level. The best views of Table Mountain are from Signal hill or Lions Head.
Robben Island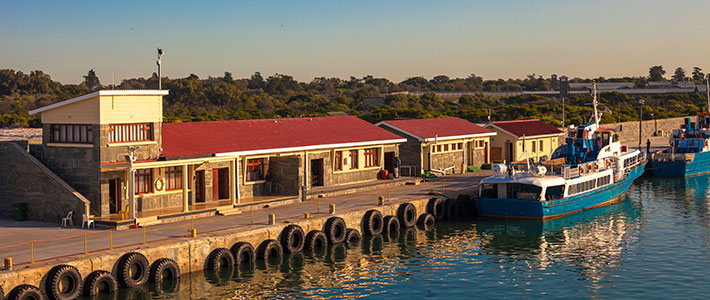 This former prison island located on Table Bay is where former South African President Nelson Mandela was incarcerated for 18 years. The tour includes a return boat trip across Table Bay, a visit to the former maximum security prison where you can step inside Mandela's former cell with live commentary from former political prisoners. There's also a 45-minute bus ride around the island and the chance to explore the area around Murray's Bay Harbour.
Kirstenbosch National Botanical Gardens
If you enjoyed the movie Avatar, then you'll love the astonishing landscapes and plantings at Kirstenbosch Botanical Gardens. Located on Rhodes Drive at Newlands, just a short drive out of Cape Town on the eastern slopes of Table Mountain, the Gardens were created in 1913 with a view to establishing and preserving the Cape's outstanding flora.
Kirstenbosch contains over 20,000 native plant species that are cultivated on the beautiful 528-hectare fynbos and tree-covered site. Planted to ensure blossoming of trees, shrubs and flowers continues all year, the proteas, trails, tree canopy walkway and sculpture garden are just some of the delights on view.
Bo-Kaap Area
Cape Town's historical Malay neighbourhood of Bo-Kaap is only a short cab ride from downtown or the Victoria & Albert Waterfront and filled with pastel-coloured buildings, steep cobbled streets, family-owned corner stores, and fabulous restaurants, and is a must-see during your visit to Cape Town.
This vibrant community located at the bottom of Signal Hill is made up of the descendants of slaves from Malaysia, Indonesia and African countries brought to the Cape by Dutch settlers. Residents here have vociferously campaigned against development of their historic district and have created the Bo-Kaap Museum to educate visitors and locals about their history. Located in the oldest house in the neighbourhood – the area dates from 1760 – the museum is a fine example of early Cape Dutch architecture and is a fascinating record of this historical area.
Victoria & Alfred Waterfront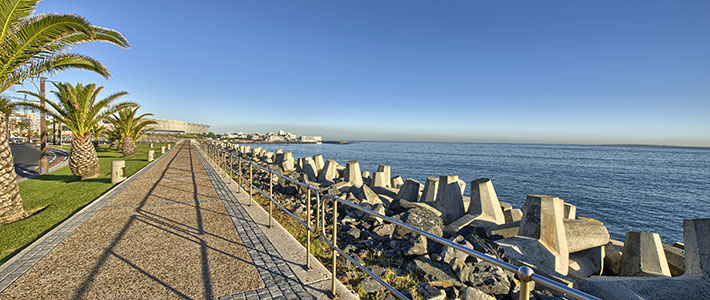 Cape Town's waterfront entertainment district is the city's revitalised harbour area and one of the most popular attractions in the city. The 300-acre site of former wharves and warehouses has been transformed into art galleries, music venues, retail spaces, museums, real estate and movie theatres. The waterfront is still very much a working harbour so if you're around there early you'll see fishing boats offloading their fresh catches.
The Springbok Experience Rugby Museum is here, as well as the Two Oceans Aquarium with interactive experiences perfect for children. Other attractions at the V&A Waterfront include the Zeitz Museum of Contemporary Art Africa – the world's largest museum dedicated to African art ­– as well as the Cape Town Stadium and Green Point Urban Park.
Getting around
Once in the city, metered taxis are safe and efficient and are found throughout the city. Rikkis Taxis are especially recommended providing door-to-door service with experienced drivers.
Best time to visit
Cape Town's attractions are worth seeing any time of the year but the most popular seasons are during the summer months of December and January when temperatures hover around 26°C.
Festivals in March such as the Cape Town International Jazz Festival and the Cape Town Carnival bring many tourists to the city. April sees some showers and May is the start of the rainy season – but the weather is still warm and the crowds fewer.
June onwards is whale-watching season and although rainy, chilly and often windy into July and August this is the perfect season to hunker down with a great South African wine in front of a warm fire.
October and into November are good times to visit Cape Town – entertainment is now based outdoors and summer festivals appear on the agenda.
Final call
Perfectly located between the Atlantic Ocean and the mountains, Cape Town's stunning setting in a natural bowl with its Table Mountain backdrop is breathtaking. In any season the range of outdoor activities in and around the city is superb, while Cape Town's historic and often turbulent history is visible in its museums and Dutch Cape architecture.
Surrounded by winelands such as Stellenbosch – the area boasts nearly 200 wine producers – you could spend a week just exploring the world-class vineyards. Cuisine in Cape Town and the surrounding area is also highly regarded, while a visit to the UNESCO World Heritage Site of Cape Point – the southernmost tip of South Africa – is unmissable during your visit.
Contact us today for a personalised charter quote to and from Cape Town.