City guide: Miami, Florida | Private jet charter
Located in Southern Florida, Miami boasts some of the best beaches and natural wilderness in America. From Downtown Miami with its luxury hotels and retail to Miami Beach and the famous Art Deco district and white-sand beaches, Miami remains one of the most popular holiday destinations in the world. And of course no visit to Florida's favourite city would be complete without exploring the Everglades National Park.
Miami Beach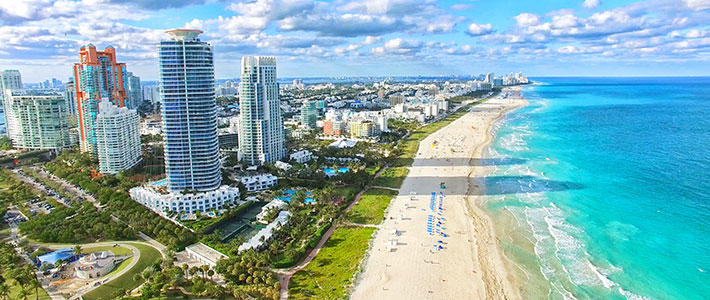 Miami Beach is actually a small island connected by bridges to mainland Florida. The area is a smorgasbord of vibrant beach-focused nightlife and restaurants, expensive real estate and a superb restaurant scene.
South Beach – at the southern end of Miami Beach – remains one of the most popular vacation destinations, as well as the beautiful Art Deco Historic District with its eye-catching restored buildings from the Thirties and Forties, and ubiquitous neon signage.
Ocean Drive is the area's most iconic street and pays homage to the area's pastel Art Deco buildings with vintage cars to match. This is the street for people watching. If the beach gets too hot then join a walking tour of the district – tickets are on sale at the Art Deco Welcome Center.
Little Havana
Miami's Latino community has provided the city with much of its superb cuisine and musical heritage, and Little Havana is no exception. This Cuban district in Miami has a vibrant cultural scene that is centered around food, music and dance. There's a relaxed vibe here as locals meet up at the restaurants and bars along Calle Ocho, the area's main street. Buy home-grown Cuban products here and check out the wall murals depicting influential Cuban personalities.
Every March the famous Calle Ocho Festival celebrates the very best of Cuban and Latin American cultures as well as Caribbean cuisine.
Everglades National Park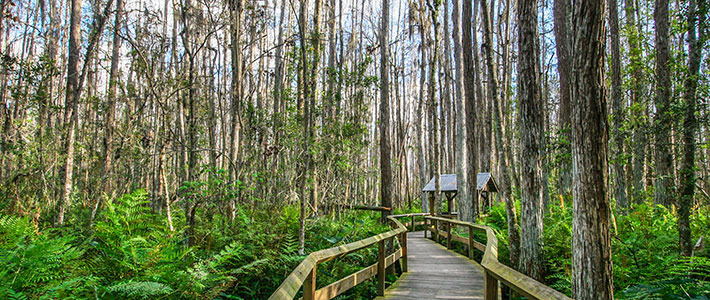 The Everglades span an incredible 1.5 million acres and are only a short drive from Miami. The dry season (November to May) in Florida is the best time to visit when there are fewer mosquitoes and less rain.
There are two entrances to the Everglades: the southern entrance in Homestead about 1.5 hours from Downtown Miami, or the Northern Entrance in Shark Valley, an hour from Miami.
Hike along the walking trails, or for a closer view of the action join an airboat tour to explore – home to crocodiles, alligators, snakes and a vast array of bird, plant and fish life.
Vizcaya Museum and Gardens
The former winter residence of industrialist James Deering, this luxurious Italian Renaissance-style villa was constructed in 1916. Sprawling among 28 acres, the house has 34 rooms all centred around a courtyard.
The European art collection and featured furniture date from the 15th to the 19th centuries, while the gardens are a haven of peace layed out with sculptures, pools and fountains. Look out for the artistic carved barge breakwater by the steps into Biscayne Bay.
Bayside Marketplace
If you prefer your shopping malls outside in the fresh air, then head to Bayside Marketplace opposite Bayfront Park for a massive selection of over 150 independent as well as big brand stores among the craft and souvenir shops.
Once the plastic wears thin take a walk along the Miami waterfront and maybe join a tour boat for a tour around beautiful Biscayne Bay. After lunch at one of the restaurants here you can take a water taxi back to your Miami Beach or Downtown hotel.
Getting around
Miami International Airport (MIA) is just 13 miles west of Miami Beach and 5 miles north of Downtown Miami. Once in Miami and its environs the best way to explore this vast city is by car.
Best time to visit
Miami's climate is sub-tropical so it's generally warm and sunny throughout the year. Be prepared for rain in the afternoon and be aware that Florida lies in hurricane territory (June to November is hurricane season). The best times to visit Florida are between March and May when the heat, precipitation and humidity are at their most manageable.
The heat and crowds are at their height between June to August with popular Miami summer events taking place including Florida Supercon in July and Miami Spice in August.
September to November is hurricane season so the crowds are less, but the summer heat and humidity still lingers. December to February is Miami's peak season, so be sure to book your reservations way in advance as these months also host popular events including the Miami Boat Show in February, and the South Beach Food and Wine Festival.
Final call
Miami is Florida's jewel and an ideal year-round holiday destination. Enjoy the Latino atmosphere in Little Havana and take in one of the many art museums such as the Perez Art Museum Miami, the Museum of Contemporary Art and the Rubell Family Art Collection to name a few.
Contact us today for all your private jet charter requirements.