Delivering the romance
Did you know that more couples are engaged over the winter holidays than at any other time of the year?  Everyone wants to make their proposal a part of their love story forever.  Couples are adding private jet charters to their wedding plans now more than ever.
Delivering that once-in-a-lifetime moment is worth all the planning and scheming.  Chartering a private jet is no longer a dream of luxurious decadence. It is the exclusive nature of flying privately  to your desired destination that is so romantic.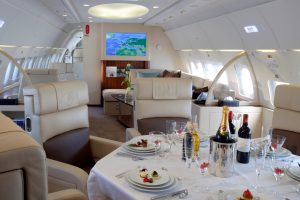 It might be a night out with the two of you on the way to San Francisco or to a warm, sunny, beach honeymoon in Hawaii or skiing with the whole family in Telluride.  The possibilities are endless.  You can count on the crew to deliver to your exact specifications. You pick the date, the time, the aircraft. Personal touches like amenities and catering options are quickly organized and you can be in the air in a few hours.
"Chapman Freeborn clients are provided with real-time estimates, aircraft details and safety information," said Helen Hollis, VP Passenger Charters-Americas.  We tap into our global network and give you the advantage of our years of expertise.  Whether it's a sunset flight up the coast, a private island or a whistle-stop through Europe, our experienced brokers have the insight you need."
There is a way to travel hassle-free with no worrying about airport traffic or long check-in and security lines. Air charter companies can arrange transportation to/from the airport via, town car, limousine or even helicopter, so you can relax through your entire trip.  As a surprise proposal or anniversary getaway, you can just let the surprise unfold.
Professional air charter brokers effectively solve complex travel challenges on a daily basis. A romantic proposal or destination wedding is a pleasure to help plan. Some couples are choosing a short-haul private jet over first class long-haul on a commercial airline. When the whole guest list is used to flying in premium cabins, the cost per head can be close to the same per-seat price, but without the stress and delays. Just arrive at the private terminal and walk onto your plane.
Hollis added, "We haven't had any weddings on board, but we would love to help that plan come together."