Get to know Chapman Freeborn South Africa: Introducing Gerhard Coetzee, Regional Charter Manager IMEA – Cargo
Gerhard has been with Chapman Freeborn for 7 years and was recently promoted to the new role of Regional Charter Manager IMEA – Cargo. His career in aviation began 20 years ago, and he has worked in several areas of the cargo industry.
"I started in aviation in 2002 as an export agent for Lufthansa Cargo, managing Air Botswana, Lufthansa and Singapore Airlines cargo flights. I went on to qualify as a Loadmaster for MD11-F and B747F aircraft." Gerhard also worked for Upington Ground Handling Company looking after aircraft ramp and cargo handling, and then in Johannesburg at Swissport Cargo and BidAir Cargo as Branch Operations Manager, looking after both domestic and international cargo flights as a Ground Handling Agent.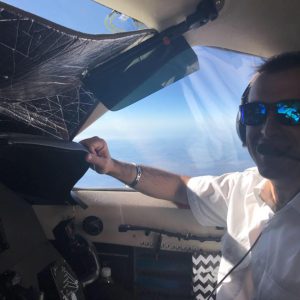 Gerhard in the cockpit of his favourite aircraft, the Pilatus PC-12
Gerhard decided from a young age that he wanted to work in the aviation industry, originally wanting to be a pilot, "Since the first time I flew I grew a passion for aviation. I have always seen my career steering in this direction, and now I've been doing it for 20 years."
In his time at Chapman Freeborn Gerhard has worked on countless interesting projects, but there is one that particularly stands out for him, "We operated a series of 20 B747F charters for a customer over the span of 5 months. These were not normal loads; we loaded 20-foot connector pallets, each weighing almost 30 tonnes with cargo that measured up to 16 meters!"
Over the next year Gerhard is looking forward to further growing the South Africa division of Chapman Freeborn. He explained, "My goal is for us to grow from strength to strength, ultimately being the leading charter provider in the IMEA region."