Get to know Chapman Freeborn South Africa: Introducing Jenna Woods, Passenger & VIP Charter Broker
Jenna Woods is a new addition to the Chapman Freeborn South Africa team, joining at the beginning of 2022 as Passenger & VIP Charter Broker.
Despite being new to Chapman Freeborn, she has 17 years' experience in the aviation industry, having joined Federal Air in their Guest Relations department in 2005. Jenna told us, "When I began my career I was meeting passengers from their flights and taking them to the private lounges in the terminal. I also had the opportunity to work in the operations department, where I was able to learn about the flight planning and scheduling side of things". It was after this role that Jenna moved to the Private Charter department, which paved the way to her doing the job she then dreamed of…"I became a flight attendant and flew for over 7 years. During this time I completed my degree in Psychology and then went back to Federal Air but this time as Guest Relations Manager."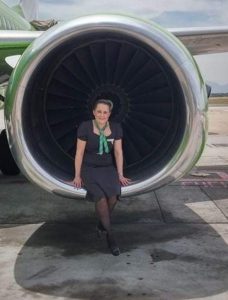 Jenna remained in this role until she moved to a private charter company in 2019, where she worked on quoting and trip-planning for HNWI travelling on private charter safari flights domestically.
Even before she worked in aviation, Jenna was interested in the industry; "Back in my school days I loved going to airshows and I just loved aircraft. I spent many weekends with my mom, who is also an avid aircraft lover, watching planes take off from OR Tambo International Airport. It was so fascinating to me to watch them depart to destinations I could only dream about".
Now that Jenna is at Chapman Freeborn, her days look very different to when she took to the skies.
Despite being new to Chapman Freeborn, Jenna already loves her role. She said, "I enjoy finding the best rates for our clients. One of the most exciting things for me is the destinations we are quoting for, and the travel opportunities that will come up."
Jenna is looking forward to the year ahead and aims to play a key role in moving the company and brand further into Africa. She will focus on building relationships with new operators regionally and internationally and is excited to meet people face-to-face wherever possible.