Get to know Chapman Freeborn South Africa: Introducing Tristan Caldeira, Cargo Charter Broker
Tristan Caldeira joined Chapman Freeborn a year ago as Cargo Charter Broker. His career in aviation began 6 years ago with Singapore Airlines Cargo.
He has had roles as a Cargo Service Agent and as an Operations Supervisor for the B747 freighter.
As a child Tristan dreamt of taking to the skies as a pilot, however circumstance lead him to take a different path in the aviation industry working in air cargo.  In his role as Cargo Charter Broker, Tristan's focus is finding and creating a tailormade solution to best meet each individual client's needs. He works in constant collaboration with his clients, ensuring they are satisfied with every step of the process.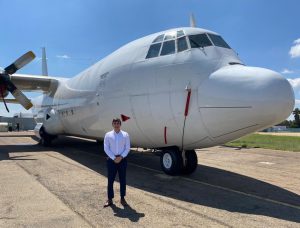 Tristan said, "I love the fast-paced environment we are in, and the fact that we have to think outside of the box. No two days are the same, and there's always something new to learn."
When Tristan looks back at his time at Chapman Freeborn so far there is one particular operation that is most memorable, "My favourite project so far was when we moved aircraft engines from Africa to Canada. It was the first flight I ever secured at Chapman Freeborn, and for that reason it's one that stands out for me."
Tristan is looking forward to further expanding the company's footprint in Africa over the coming year.