Grab your gear – let's Snow!
Aspen, Vail or Telluride anyone? There is nothing better than feeling the fresh snow under your skis. Imagine being surrounded by the trees dusted in sparkling white and spending time with your nearest and dearest.  Plenty of ski resorts are open now and you can get right to the slopes using smaller, more convenient airports.
This year, ski resorts all have pass and ticketing plans that give the maximum amount of fun and control the number of guests on the mountain. There is plenty of room for everyone – locals and guests, skiers and snowboarders.  Social distancing isn't a problem since most popular ski areas are large and have multiple lifts. Some destinations have multiple ski resorts within driving distance. You can ski a different mountain almost every day.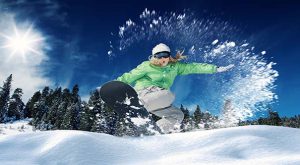 If you've been skiing in a mask for years, this year won't be special. Everyone else – be prepared. Face coverings will be required in line for the chairlift, on the mountain, all indoor spaces and whenever you are unable to maintain physical distance. Safety is the priority for everyone. Sticking to the six-foot distancing rules means there is reduced lift and restaurant capacity.  Advance purchase of passes and services is always a good practice. This winter may be quieter than years past so most days will feel like you are playing hooky and skiing on a weekday.  And weekdays will feel like you're skiing in heaven.
Check with your favorite ski area, whether it's Jackson Hole, Park city or Whistler, and get the lowdown. Some ski resorts are totally cashless from hotels and restaurants to ski schools. So get going and book your reservations! Look into any changes in pre-arrival, transportation, parking, rentals, whatever is needed to make your ski getaway a success. All the details are on their individual websites plus specific information from local officials and state or government requirements.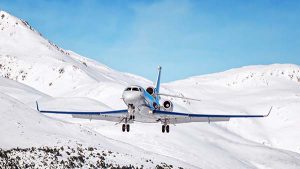 Spend more time skiing and less time traveling, look into chartering a private jet. There has been a steep increase in private chartered jet travel as travelers are prioritizing health and safety. Whether it's a getaway weekend for two or a family ski week, experienced companies like Chapman Freeborn can set up your flight or a whole season of flights to all the popular skiing destinations. The flight crew and staff are trained to ensure your experience is safe and all health precautions have been taken on your behalf.  If you love the snow, a private jet charter will help you get the most out of your ski season.
Helen Hollis, Vice President Passenger Charters, Americas sums it up, "Flying privately means you'll avoid busy airports lines and crowded aircraft cabins. With less direct contact, there is a lower risk of being infected. And for optimum health protection, the aircraft cabins are disinfected before every flight.  There is also an option for the crew to be tested for COVID-19 if the customer requires it."  Chapman Freeborn's private charter team has over 45 years of experience and places the greatest emphasis on safety, security and service.