Moving absolutely everything forward
It's great to provide a solid solution and a helping hand for our customers as they move forward on track toward their future growth. This is a fast-paced business and the global cargo team work with an extremely wide variety of cargo.
"In the same week, we can have nuts and bolts going on a Cessna from Indianapolis, three 747s filled with raw, natural materials coming from Asia and three AN-124s loaded with heavy machinery going from Australia to Brazil.  The global variety of the cargo is incredible," said Ben Hampton, Director Cargo Sales for Chapman Freeborn in the Americas. Working to build Chapman Freeborn's business in North America, Hampton is also an active broker.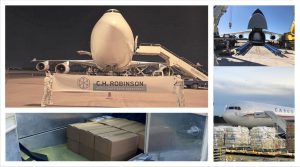 "Sometimes a client cannot be referenced but this was the most fun project so far, said Ana Bocchini, Cargo Broker, Americas. If this cargo air charter was a pizza, it would be a large pie with everything and extra cheese. "
The request for a quote had come in from our website on a Monday and on Thursday, Chapman Freeborn Airchartering had a signed contract with a very popular gaming company.
The following Monday, three 747 cargo planes were filled to the brim with merchandise featuring some beloved little characters. All three planes departed Los Angeles International Airport for Atlanta, New York and Chicago to deliver in time for Big Box retail stores' Black Friday sales.
This air cargo charter included both domestic and international flights and involved coordination with trucks, ocean freight, mobilizations, full & part freight air charters within North America and beyond. It required skill in materials management and distribution for the region including customs compliance to meet both US & Canada's regulations.
Chapman Freeborn brokers are experienced in all types of cargo and their individual requirements. The cargo might be natural organic materials or chemical compounds being shipped to manufacturers so they can be made into auto parts and everyday items. Recently, large pieces of machinery used in constructing assembly lines were delivered to a new manufacturing facility in the U.S. There are also humanitarian lifts following hurricanes or natural disasters. The cargo on these flights is usually blankets, medicines, potable water and survival necessities. Some countries still in the midst of PPE shortages are receiving face masks and gloves for the front line responders. We're proud to have a hand in moving forward again.