The wonders of South African nature: a beginner's safari travel guide
A beginner's guide to South African safaris: best lodges and travel tips
South Africa is one of the most famous destinations for safaris worldwide. While this warm continent is still a relatively new travel destination for most Europeans, it is an excellent place to start exploring the breath-taking safaris and rich wildlife of Africa. Although its stunning nature is attracting more tourists each year, too many first-timers this kind of holiday planning might seem a bit overwhelming, so we've put together beginner's guide for an unforgettable safari experience in South Africa. 
Why is it worth going on a safari?
A safari is an exciting trip exploring and admiring wildlife in its natural habitat. It allows travellers to have an authentic experience of Africa and observe nature without causing any harm or disturbance. Safaris offer a unique chance to see animals up close, and the experienced guides will share their profound knowledge. There are multiple ways to enjoy safaris; tourists can walk through the wilderness, drive in 4×4 vehicles or even fly in light aircraft. 
Is Safari affordable?
While a safari can seem like a very expensive holiday, this may not always be the case. In fact, it often offers great value for money, since most safaris include sightseeing, accommodation, meals, activities like game drives and even airport pick-ups and drop-offs. Once you choose the safari package you'd like to experience and book your preferred mode of transport, everything else is taken care of. This type of holiday is not only going to be a stunning, memorable experience; it's also easy to plan and manage your budget.
Are Safaris family-friendly?
Can there be a better way for children to learn about animals than to see them in real life during a family safari? Youngsters will never get bored because there is a variety of Junior Ranger programs to choose from, allowing children to track animals or even learn more about the local culture. South Africa is one of the best countries for family safaris. The country is almost entirely free of malaria, has excellent roads, and a lot of the accommodation has areas for children to play, nanny services and child-friendly activities. 
When is the best time to go?
South Africa's national parks and game reserves have better infrastructure than most parks in Africa, which means that roads are unlikely to be washed out by rain no matter the season. For wildlife, the winter season is the best, when the weather is cooler and dryer. It is ideal for travelling to South Africa from June to September because animals come out in the open more often due to the limited availability of food and water. During the summer season on the other hand, the environment is very lush and beautiful, but animals can be hidden in the dense cover of shadows. 
How to get there?
Depending on the budget and the type of safari experience you're looking for, you can either get a commercial flight or go all in and book a privately chartered flight. A trip to South Africa from Europe might require you to catch more than one connecting flight, wasting a lot of valuable holiday time. The most convenient and safest way right now to fly to a safari trip is on a private jet.
Not having any stopovers means less direct contact with other people on the journey and at the airports. Arranging your transport couldn't be easier than working with a company like Chapman Freeborn, the global aircraft charter specialists who offer private or group charter flights to airports around the world as well as private airstrips located in each reserve.
Which safaris to visit in South Africa?
South Africa has over 600 parks and reserves, with many impressive safaris on offer. This allows travellers to choose the kind of experience that suits their needs. From guided safaris to setting out on your own or camping far away from anyone else, there is an ideal safari for everyone. According to SafariBookings.com, as many as four of the country's parks have been awarded a position among the top 10 nature and game reserves in Africa. Sabi Sands, Phinda, MalaMala and Kgalagadi have all been ranked highly, while no other country has so many parks in the top 10. Aside from these four, there are other beautiful places to visit, and further on we'll explore some of the most notable safari experiences in South Africa. 
Tswalu
Formerly a large collection of farms, Tswalu is the largest private game reserve in South Africa, covering 114, 000 hectares. It is located in the Northern Cape, surrounding the Korannaberg Mountains on the southern edge of the Kalahari Desert. It is an impressive place with a dramatic backdrop to wildlife sightings, where you can encounter 240 different species of birds, and 80 species of land animals. Tswalu is home to giraffes, lions, antelopes, zebras, buffalos, black rhinos, the endangered African wild dog, and so much more. 
The safari is family-friendly, and there are many different ways to explore the unique views of stunning landscapes and wildlife. The dunes can be travelled on foot, while the deeper forays into the grasslands can be explored on horseback, offering a very unique and up-close experience. 
Where to stay in Tswalu: Tarkuni Lodge
Photo credited to https://www.rhinoafrica.com/en/accommodation/tswalu-tarkuni-lodge/25852
Tswalu only has two camps and the number of guests is limited to 28 at a time, so regardless of your choice of accommodation, you'll enjoy the privacy and exclusivity. There's nothing better than feeling at home on holiday and Tarkuni Lodge can offer you just that. The former Oppenheimer family homestead offers a natural home from home, bush camp feels alongside a sense of luxury and tranquillity.
When staying at Tarkuni Lodge, you'll have your own chef and guide, so that you can just relax and enjoy your holiday. 
Sabi Sands
Sabi Sands is probably the most popular and well-known game reserve in South Africa. It shares a non-fenced border with the world-renowned Kruger National Park and covers almost 65,000 hectares of unbroken savannah. Sabi Sands consists for a large part of former agricultural land, that was repurposed to allow wildlife to proliferate freely, it is now home to the Big 5; elephants, rhinoceros, lions, leopards and Cape buffalo. Aside from these impressive animals, there are over 500 other species indigenous to the reserve, like hippopotamus, zebras, giraffes, hyenas and Cape wild dog. 
Game drives are one of the best ways of spotting wildlife in its natural habitat, because well-trained guides are allowed to drive their vehicles off-road into the bush to follow the animals. You can get a completely different experience exploring nature on a game walk, as you can sometimes even approach wildlife to a very short distance, creating a thrilling experience. These safaris are family-friendly, but minimum age limits for game drives (8 years) and game walks (14 years) apply.
Where to stay in Sabi Sands: Singita Boulders Lodge
Photo credited to https://singita.com/activity/swimming/?item=13643
Singita Boulders Lodge is often rated as one of the best safari lodges in South Africa. Not only does this hotel boasts some amazing views and incredible luxury, but it is also dedicated to making sustainable and environmentally friendly choices while supporting and empowering local communities. Singita's mission is to conserve, preserve and protect the beautiful nature and wildlife around each every one of their 15 award-winning lodges and camps. Built on family-owned land, each suite offers an ensuite bedroom, private sitting room and a game viewing deck with a private plunge pool. 
Phinda
Although smaller in size, Phinda is one of the most impressive South African private game reserves. Situated near the east coast, Phinda is close to the Indian Ocean and covers 29,000 hectares. What Phinda lacks in size, it makes up in quality – the reserve features the Big 5, as well as 432 bird species across a diverse landscape of seven different ecosystems. Phinda is often described as 'Seven Worlds of Wonder' because of the impressive views of woodland, wetland, forest and grassland, interspersed with rivers, mountain ranges, marshes and pans. You'll be able to watch lions, a large variety of birds, cheetah, black rhinos, zebras, wildebeest, hippopotamus, antelopes and hyenas.
Phinda has a relaxed feel and conservation remains at the forefront of managing the reserve. When visiting the reserve, travellers can enjoy both day and night safaris with expert guides, explore the unique fauna and flora on foot and assist the conservation team with rhino, elephant or pangolin research. The reserve also offers community experiences, where tourists can visit nearby Zulu communities and gain insight into their daily lives. 
Where to stay in Phinda: andBeyond Rock Lodge
This lodge charms its visitors with stunning views facing the cliffs of Phinda's game reserve. There are only six intimate and private suites, that blend in with their environment, located over the deep valley below, providing breath-taking views of the landscape. The suites all have plunge pools and three of them even offer fresco showers in the leafy growth, making you feel like you're bathing in your own private waterfall. This lodge offers game safaris and Zulu village tours during the day, and turtle drives, as well as scuba and ocean safaris during the night. 
Kaga Kamma
Photo credited to https://www.kaggakamma.co.za/gallery-cederberg.php
Kaga Kamma is ideal for mountain lovers and those who love to escape the crowds for a true nature experience. Situated in the untouched wilderness of the Swartruggens region of the Cederberg Mountains, Kaga Kamma offers a chance to experience dramatic rock formations, breath-taking scenery, a rich cultural heritage, and impressive red-brown weathered sandstone formations. It is home to many different wild animals, such as the zebra, antelope, leopard, antbear, aardwolf, black-backed jackal, caracal and cape porcupine.
At Kaga Kamma, visitors can not only enjoy the spectacular views during drives in 4×4 vehicles, but active adventurers can also take mountain bike trails. A Quad Bike Safari provides unique ways to explore otherwise inaccessible areas and routes of the Reserve. Travellers can also enjoy stargazing spots and Rock Art Tours to experience the local culture.
Where to stay in Kaga Kama
Photo credited to https://www.kaggakamma.co.za/gallery_star_suite.php
Kaga Kama has a variety of different accommodation options to consider depending on your holiday needs. For those who would prefer a more luxurious experience, the lodge offers Open Air Suites. They are as stunning as it sounds because they have their own private locations between the most astonishing rock formations overlooking the fynbos plains. The suites offer the visitors an opportunity to fully immerse themselves in the wonders of the wildlife of South Africa and even have their own natural rock pool. Those who want to release their inner adventurer, however, can camp in an untouched natural environment for a real wilderness escape. 
Addo Elephant National Park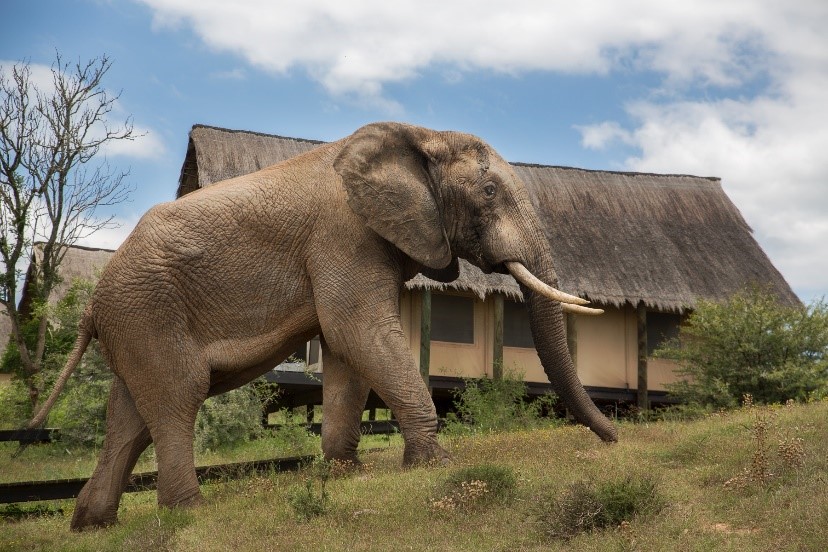 Photo credited to https://gorah.hunterhotels.com/safari/
Covering 164,000 hectares of land, Addo Elephant National Park ranks third in size after the Kruger and Kgalagadi Transfrontier parks. It is a diverse wildlife conservation park that was founded in 1931 to provide a sanctuary for the eleven remaining elephants in the area. It was a great success, and the park now houses over 600 elephants and a variety of other animals, such as 400 Cape buffaloes, over 48 endangered Black rhinos and a variety of antelope species. The conservationists have also recently introduced spotted hyenas and lions to the area. If you an elephant lover, there is no better place to be for an impressive safari.
Addo Elephant National Park offers a variety of activities: from 4×4 trails to adventure activities, like river rafting and mountain biking, to horse riding and hiking, there's a lot more to do than just watch elephants. It is a little piece of heaven for nature lovers and those who prefer an active holiday with beautiful wildlife. 
Where to stay in
Addo Elephant National Park: Gorah Elephant Camp
Photo credited to https://gorah.hunterhotels.com/safari/
Can there be anything better than watching a herd of elephants stroll by as you sip tea on the veranda on your holiday in Africa? This dream is made into a reality when you stay at the Gorah Elephant Camp. Here you can experience the authenticity of African safari at its best. This hotel is set at the heart of the Addo National Park, home to the densest population of elephants on earth. There are 11 spacious and luxurious tented suites with a true vibe of the golden era of safari in the 1900s.