Celebrating Women in Aviation: Kathy Leroy, VIP Charter Manager at Chapman Freeborn
To celebrate International Women's Day at Chapman Freeborn we are shining a spotlight on women in aviation and the huge variety of roles available in the industry. Our Celebrating Women in Aviation series holds space for the experiences of our wonderful colleagues, giving you an insight into their roles, how they got to where they are today and their advice for other women and girls considering a career in the aviation industry.
Kathy Leroy has been working at Chapman Freeborn for over 12 years, but her ties to aviation began when she was very young. Her father worked in hotels, so she grew up living in over 14 countries across the globe. It was during a stint in Bangladesh in 1979 that a 6-year-old Kathy met a 9-year-old boy by the pool – a boy who was obsessed with aeroplanes and aviation. They became firm friends, but after a year Kathy's family moved on to the next country and she was separated from her friend.
That is, until 21 years later when their paths crossed again, and they met for lunch in London. They fell in love, and after two months of dating long-distance Kathy decided to move from Portugal to London to join him, a year later they were married, and the rest is history!
Kathy's career spanned recruitment, telecommunications and electronics, but it was listening to her husband on his multilingual aviation-related calls that piqued her interest. As luck would have it, an opportunity became available at Chapman Freeborn as a Trainee Charter Broker in the VIP Team, liaising primarily with the music and entertainment industry. As she had her interview in the office which provided views of the Gatwick runway, she knew she was in the right place, "I accepted the job on the spot and nearly 13 years later I'm still here".
Kathy now heads up the VIP Private Jet Team and they work internationally with the music and entertainment industry, as well as with industries ranging from sports, to travel to pharmaceuticals and beyond. "We arrange private jets for our clients' travel needs, and these can range from 4-seat very light jets to 16+ seat heavy jets, or even an airliner with 100+ seats. We work closely with our clients to plan their sometimes very intricate routings to attend meetings, shows or holiday destinations whilst taking into consideration airport facilities, opening hours, client aircraft preferences and much, much more."
Her role offers an enormous amount of variety, which is something Kathy loves about her job; "There is no monotony and we learn something new pretty much every single day. We have the privilege of assisting many amazing and experienced professionals in the music industry and working so closely with our clients means we develop long-lasting relationships with them. The whole process is a pleasure to be a part of".
Kathy's love of aviation does not start and end with her job, as her son has grown up being exposed to both of his parents' aviation-related challenges and successes. "Our son Seb has developed a strong passion for all aspects of aviation, beginning with his first word which was 'plane'! At the age of 15 he is now a solo glider pilot. Interesting and unusual aircraft movements on various flight trackers are discussed on a daily basis in our house, so there is no getting way from aviation here!"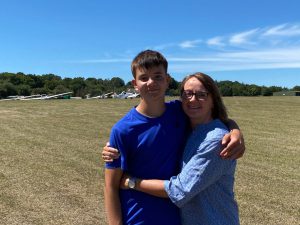 The gender imbalance in the aviation industry does not surprise Kathy, however she believes this is already changing, "Since I started working in this industry over a decade ago, I now see more and more female pilots on commercial airlines I fly with as well as on flights we arrange for our clients. But we need more!"
She thinks the balance can be redressed by championing more female role models in aviation for young females in early education; "This is where the future female generation lies, and these young ladies need examples of female successes in the industry. It is crucial for them to see that they too can achieve the same level of success."
Her message to young girls and women who are thinking about a career in aviation is to "Go for it! It's a tough industry but fulfilling in so many ways. If you want to feel a sense of accomplishment at the end of the day, go ahead and skydive into the aviation world and our global family community. You will discover a group of people with strong work ethics, empathy and strength in character."