Celebrating Women in Aviation: Robin Byrne, Americas Marketing Manager at Chapman Freeborn
To celebrate International Women's Day at Chapman Freeborn we are shining a spotlight on women in aviation and the huge variety of roles available in the industry. Our Celebrating Women in Aviation series holds space for the experiences of our wonderful colleagues, giving you an insight into their roles, how they got to where they are today and their advice for other women and girls considering a career in the aviation industry.
Robin Byrne has worked in the aviation industry for 13 years. Prior to joining Chapman Freeborn as Marketing Manager for the Americas last year, she worked for Virgin Atlantic in Los Angeles in their New York headquarters and later for QANTAS and Air New Zealand at their Los Angeles headquarter offices. This career was sparked by her love of travelling; Robin's first aviation-related memory was saving all her money from a high school job to fly to Hawaii by herself. She has loved aviation ever since!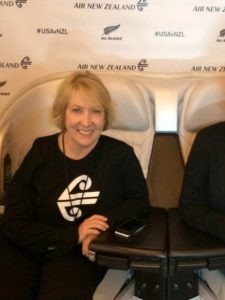 Her role in marketing is broad; "My focus is to build awareness for Chapman Freeborn in the Americas so that customers will consider us when they need to move cargo, arrange a private jet or send a very important parcel via on board courier. I create content for social media, build email campaigns for the passenger team, create marketing materials for the sales team and write blogs that boost our SEO rankings".
It is this daily variety that Robin loves so much about her role.
Robin thinks that military history contributes to a discrepancy in gender in aviation industry, as "50 years ago it made sense to give veteran aviators jobs as pilots or aviation executives". Robin believes that executives must be held responsible for a lack of women in the workforce.
For those considering a career in aviation, Robin's advice is to go for it. "People in the aviation world are generous; you'll find mentors everywhere. Go to aviation school, learn to fly, go to the airport, call Chapman Freeborn! Just get started. It's an amazing world out there and you should see as much of it as you possibly can."