Celebrating Women in Aviation Series: Calley Edlund, Passenger Sales at Chapman Freeborn
To celebrate International Women's Day at Chapman Freeborn we are shining a spotlight on women in aviation. Our Celebrating Women in Aviation series holds space for the experiences of our wonderful colleagues, giving you an insight into how they got to where they are today and their advice for other women and girls considering a career in the aviation industry.
Calley Edlund works in Passenger Sales at Chapman Freeborn. She has been at the company for a year and a half and worked for an American commercial airline prior to joining us.
Aviation is in Calley's blood. Almost every male in her family has a pilots' license, and her earliest aviation experience dates back to before she can even remember – as a one-year-old baby she took a flight with her grandpa, who held her on his lap and let her steer his plane. The photo ended up on the cover of an aviation magazine, which sealed her fate that she would end up working in the industry!
But even without fate, an inherited love of planes and a lifelong passion for travel meant that Calley always had the goal of working in aviation.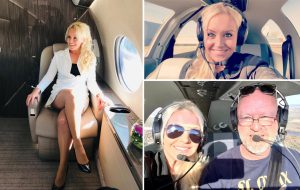 After graduating from university Calley got a marketing job at an airline. It was her dream position, with her role involving running the company's social media and taking photos of planes. "Plus", Calley said, "as a broke college graduate the free flight benefits appealed to me. Anything to get out of the freezing Minnesota winter!"
It was after this position that Calley found her job at Chapman Freeborn. Wanting to continue in her family's aviation footsteps, Calley said "In my interview at Chapman Freeborn I told the truth…if I don't get hired my family will disown me!" Calley was successful and has now worked in the sales team for a year and a half.
Her role involves reaching out to prospective clients who may need our help with charters, explaining to them how we can work together to meet their requirements.
Calley's passion for her job has resulted in people picking up on her excited enthusiasm when she speaks to clients, "I genuinely am thrilled to quote returning or new clients! I love having great conversations on the phone, or meeting them in person at meetings or conferences. My favourite thing is enlightening people about our industry. Being a people person, I find building relationships really rewarding – it doesn't feel like a job. Seeing the planes and private terminals is fun too!"
Her other favourite part of her job is the team she works with at Chapman Freeborn. They're a close-knit group who love to help each other, whether that be with work-related tasks or by teaching Calley how to make a perfect British cuppa!
Calley wishes that there was more equality across the aviation industry, however she is unsurprised that most women in aviation are flight attendants and 93% of pilots are men. "When I say I work in aviation I'm typically asked if I'm a flight attendant. Also, the fact I'm the only woman in my family in aviation amongst all the men essentially mirrors the theme in society".
Calley believes there should be a focus on children, with young girls seeing more women in aviation positions as role models, explaining "I think talking with young girls about working in aviation should occur more. I'd tell them to not be afraid to become part of an industry where you're an extreme minority. Being an outlier can be an asset; you'll be easily noticed and more memorable!"