Chapman Freeborn delivers COVID-19 test kits to Germany from 5 airports across China
Chapman Freeborn has operated a series of flights using several different airlines to deliver COVID-19 test kits from China to the client in Germany.
The operation presented logistical challenges, as the COVID-19 test kits were located all over China. Chapman Freeborn worked with a variety of airlines (Ural Airlines, Rubystar Airways and Wamos Air) across the country to co-ordinate flights departures from across the country, including Beijing Capital International Airport (PEK), Tianjin Binhai International Airport (TSN), Guangzhou Baiyun International Airport (CAN), Shenzhen Bao'an International Airport (SZX) and Shanghai Pudong International Airport (PVG).
To transport the cargo, some of the aircraft used needed to be reconfigured. This included removing the seats on a Ural Airlines A321 passenger plane, which then provided space for 100CBM of test kits. Several Wamos Air A332 aircraft carried 205CBM of test kits apiece, and the Rubystar Airways cargo aircraft carried the rest of the kits.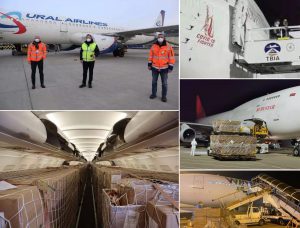 This culminated in Chapman Freeborn moving over 1,300CBM of COVID-19 test kits in just one week from 5 different airports across China.
This impressive feat is just one example of Chapman Freeborn's expertise in even the most logistically challenging and complicated operations. Despite the transport request coming in from the client at short notice, the team was able to co-ordinate between airlines and airports for a successful operation.
Whatever your cargo, Chapman Freeborn will go above and beyond to find a solution to perfectly suit your requirements. Get in touch with the team today to find out how they can assist you with your transport by emailing cargo@chapmanfreeborn.aero.