Chapman Freeborn give AOG parts a luxury travel experience
Chapman Freeborn are no strangers to using large passenger aircraft for cargo these days, but what about using a VIP jet?
On a Sunday afternoon Chapman Freeborn Germany transported critical AOG (aircraft on ground) parts in a luxury jet, creating a tailor-made flight solution for a client on a time-crunch.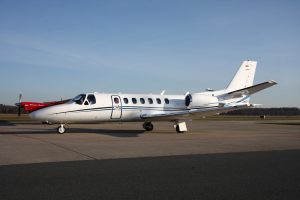 The parts were urgently needed to repair one of the world's largest aircraft, the AN-124. Cargo Charter Broker Jan Körber said, "With such a tight deadline and small but important shipment, it was clear that a business jet best met the requirement of the client".
The client was thrilled with the unconventional solution that was created bespoke for them, and equally thrilled with the smooth and punctual flight.
Chapman Freeborn pride themselves on providing tailor-made solutions to fit the client's specific requirements, thinking outside the box to find a creative solution where necessary.
Get in touch with our Cargo Team today at cargo@ChapmanFreeborn.aero to see how they can help you.