Chapman Freeborn organises cargo charter flight with record-breaking offloading
On Friday 22th October the Chapman Freeborn team successfully coordinated a cargo charter flight on behalf of Hellmann Worldwide Logistics.
The team utilised an A330-200 aircraft to transport the approximately 30 tonne load from Hanoi to Stuttgart on a 12-hour nonstop flight. The textiles were loaded into the cabin and lower deck of the aircraft, which was a converted passenger aircraft, also known as a preighter or P2F. To increase the cargo volume, the seats of this aircraft were removed.
Handling a preighter was a highlight for Stuttgart Airport, as they have rarely been used until now.
Chapman Freeborn Cargo Charter Broker Raju Schauer was on site in Stuttgart, and ensured the operation went smoothly. For the offloading, a manual rail system was used within the aircraft, speeding up the process considerably.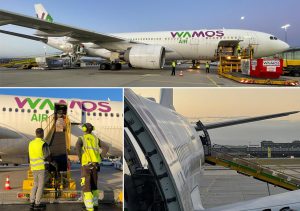 Stuttgart Airport also provided a luggage belt for the quick removal of the cargo from the cabin, meaning that offloading was completed in just 90 minutes before the cargo was ready for its onward transport. This set a new record for fastest offloading, even for the experienced Chapman Freeborn team!
Martin Ziegler, Senior Cargo Charter Broker at Chapman Freeborn, said, "For the successful handling of a charter flight good teamwork is vital – both within the Chapman Freeborn team and with our customers and partners.
"For this transport, the Chapman Freeborn team from Singapore worked hand-in-hand with their colleagues from Frankfurt. Additionally, the close cooperation with Hellmann Worldwide Logistics, the staff of the airline Wamos and Stuttgart Airport made this project a success."