Chapman Freeborn repurposes a passenger plane to operate their longest Belgian charter in history
Last month Chapman Freeborn Belgium office smashed a record for themselves, transporting 195 pallets of consumer goods on their longest non-stop flight…in two passenger planes! The time-critical assignment was to transport the goods from Southeast Asia to the USA, with a strict arrival deadline before Christmas.
Chapman Freeborn immediately set to work, and when it became apparent that there was no suitable air freighter charter capacity at this time, they sourced two Boeing 777-300ER passenger aircraft for the job instead.
The journey began in Malaysia, where some clever loading ensured the 195 Euro pallets could fit perfectly in the belly hold of the two planes. These pallets measure 120cm x 80cm and are loaded onto a ULD (Unit Load Device), which usually accommodate six pallets each. However, using wooden spreaders on the ULDs to add a few extra centimetres of height to each one, they were able to hold seven pallets each instead of six.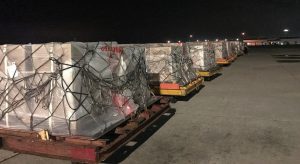 This meant that each aircraft was equipped with 14 ULD positions, giving a total capacity of 196 Euro pallets – just enough for the cargo! Without the innovative thinking of the brokers and aircraft loadmasters, there would have only been enough room for 168 pallets, and three aircraft would have needed to be chartered instead of two.
Once the goods were loaded onto the passenger planes, the journey could begin. The first leg was from Malaysia to UAE, where a stopover allowed for a crew change. History for the Belgium office was made when the second leg covered the 16 hours from Dubai to the final destination in the USA; the longest non-stop flight the Chapman Freeborn Belgium team has chartered.
The consumer goods reached their destination on time, and Chapman Freeborn was thanked by the client for the professional, timely and innovative delivery.