City guide: Montreal | Private jet charter
Located in Quebec on Canada's eastern seaboard, where the St Lawrence and Ottawa Rivers meet, Montreal is the province's second largest city. Home to 4 million people, Montreal is also the world's second largest French-speaking city after Paris. Its rich cultural life, world-class museums, historic architecture, and the charming historic old town is the backdrop to superb restaurants, a revitalized waterfront and an eclectic nightlife, making Montreal a magnet for travelers. Birthplace of the famous Cirque de Soleil group, Montreal is the ideal year-round destination. Here are 5 Montreal attractions to visit during your stay. 
Old Montreal and the Port area
The cobbled 17th-century streets of Old Montreal are easy to reach and located between downtown and the Saint Lawrence River. Walk, ride or take a horse-drawn carriage and explore this historic district's many attractions, including the Gothic-Revival Notre-Dame Basilica and the Pointe-a-Callière museum. The funky cafes, boutiques and restaurants attract locals and tourists who enjoy the vibe at Place Jacques-Cartier and Place de la Dauversiere – popular meeting spots that connect the City Hall to the waterfront port area. Art buffs will enjoy the galleries on Notre-Dame Street and St Paul, while the perfect apero-stop can be had at bars like Le P'tit bar. Jump on the observation Ferris wheel or soar above the Old Port on a zip line with views of the Clock Tower and its beach, as well as the Montreal Science Centre. 
 See Montreal from the Water
Montreal Port is the launchpad for boat trips along the Saint Lawrence River, the waters around the Old Port, and the Lachine canal. We love the Petite Navire electric boat that boasts pollution-free propulsion and can take up to 40 guests. Jump aboard at Jacques-Cartier Quay for a relaxing tour passing three lochs along the 150-year-old Lachine Canal. Or choose to sail around the Old Port. For both tours, be sure to make your reservation at least 48 hours in advance. For a faster and more thrilling ride, book a 75-minute adrenaline-pumping jet boat ride on the Lachine Rapids near downtown Montreal. All the equipment on the jetboat is supplied: wetsuits, sandals, windbreakers and vests. 
 Notre Dame Basilica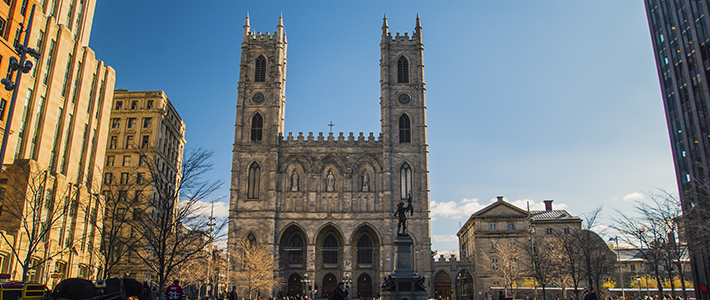 Located in Montreal's Old Town on the Place d'Armes, Notre Dame Basilica is the city's oldest Catholic church and boasts stunning stained glass windows that feature the history of Montreal. Join a guided tour and hear about the history of Montreal's mother church that played host to singer Celine Dion's wedding and is a recognized Historic Site of Canada. This 19th-century place of worship boasts a vibrant gold and blue interior with vaulted ceilings in true Gothic Revival style. Place d'Armes historic public square is a popular meeting place and home to some of Montreal's most impressive buildings, including the Bank of Montreal, the New York Life Building and the Aldred Art Deco building which is Montreal's first skyscraper.
Montreal Botanical Gardens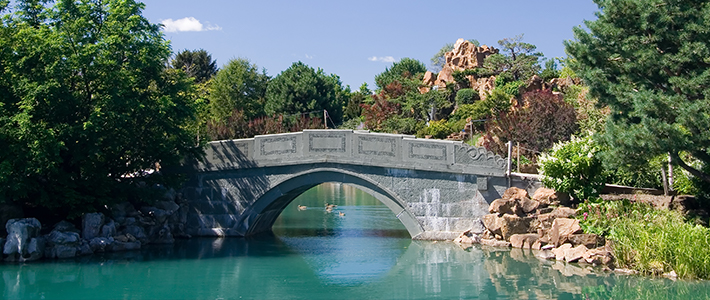 Montreal's spectacular Botanical Gardens, designed by Henry Teuscher, are located near the Biodôme and Olympic Park just a few minutes' drive from downtown. Part of Montréal's Space for Life complex, the 75-acre Botanical Gardens comprise 10 exhibition greenhouses – home to a beautiful orchid collection – alongside more than 20 themed gardens including an Alpine Garden, a Japanese Garden, and a First Nations Garden. Over 50% of the Gardens are devoted to the Arboretum woodland which is home to 7,000 tree and shrubs on display in 50 collections that have been planted to bloom throughout the year, offering a welcome respite from the city buzz. You can even cross-country ski in winter. Stop for a meal at the Jardin Botanique restaurant which sources the freshest ingredients from local suppliers. 
Montreal's best food markets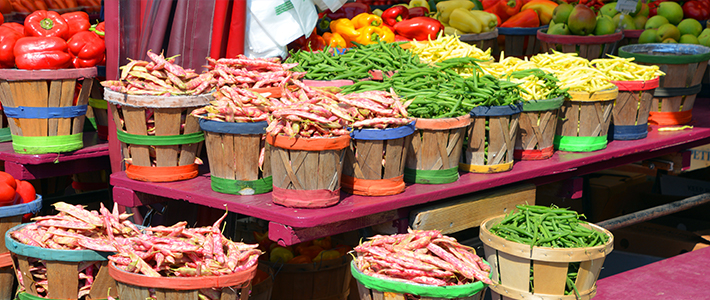 Montreal is the Quebec capital of gastronomy, as you'd expect from a city with a huge French and Italian influence. Here are a few of our favorite Montreal food markets: Head to La Petite Italie and St Leonard's districts to savor superb coffee, to-die-for-pizzas, authentic bakeries, fabulous bars – and the renowned outdoor Jean-Talon Market. You'll find fruit and veg here, alongside dairy products and organic meat and poultry. The craft beer is delicious as is the maple syrup. LaChine market – located off the eponymous canal path – is Montreal's oldest public market selling fruit, veggies, flowers and more since 1854. Locals love Maisonneuve Market with its quality locally grown produce and stunning flower displays in summer. The best-known indoors market in Montreal is Atwater Market, housed in an Art Deco building next to the Lachine Canal. Don't miss its famous La Fromagerie Atwater shop and a fine selection of slow-food stands. 
Best Time To Visit Montreal 
Spring is generally the best time to visit Montreal, when the weather is less humid and walking around the sights is easier. March to May plays host to Montreal's St Patrick's Day Parade and the Pouzza Music Festival. High season in Montreal is between June and August when the city's festivals are in overdrive. Visit the Montreal Grand Prix in June, the Jazz Festival and Montreal Pride. Autumn, from September to November, is another popular time to visit Montreal when the weather is warm and the crowds are lower in number. Winters in Montreal can be demanding on even the hardiest soul – you have been warned! Expect snow, rain and a wind chill factor of minus zero and on the plus-side — fabulous Christmas markets, winter sports and skating. Underground City is the place to retreat to when it gets too cold: A maze of restaurants, malls and movie theatres to keep you warm against the winter chill. 
Why Visit Montreal 
Montreal is a foodie heaven whose renowned cuisine reflects its multi-cultural population and its position as the second largest primarily French-speaking city in the world after Paris. It also has more restaurants per capita than any other city in North America. World-class restaurants and bars, farmers markets and food stands make Montreal one of the most popular cities to visit in Canada. Alongside the enviable cuisine is an extraordinary arts, cultural and architectural legacy with a captivating Old Town. In summer the festival season is in full swing, and Montreal's parks and gardens are well patronized, while in winter, cross-country skiing and skating are de rigueur. Truly a city for all seasons.
If you are looking at booking a private jet charter to and from Montreal contact us today.