Get to know Chapman Freeborn South Africa: Introducing Theon Pretorius, Cargo Charter Broker
Theon is a new member of the Chapman Freeborn South Africa team, joining the business at the start of January as Cargo Charter Broker. However, his experience in the aviation industry spans 16 years.
Theon has had several different roles within the industry, including Flight Coordinator and Flight Loadmaster with Safair Operations, which enabled him to travel to Afghanistan, Somalia and Mali for humanitarian missions, and then as Operations Manager where he took care of all charter and contract operations. He said, "I loved the Hercules aircraft and used to call them "my ladies". Each one will forever have a special space in my heart, life and career growth".
He also worked for the Royal Marines in the UK, and when he returned to South Africa as the COVID-19 pandemic began, Theon worked with the World Food Programme Global Passenger Air Service COVID-19 Response, "Here I was employed as the Aviation Associate for Southern Africa and Madagascar. However, when international commercial air travel began to return and the world started to go back to normal, I was given this opportunity with Chapman Freeborn".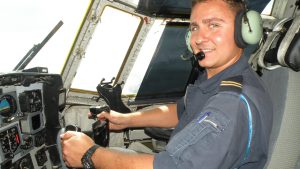 His interest in aviation began at a young age, as Theon's mother served as a captain and flight nurse for the South African Military Health Services, "I had the opportunity from a young age to meet pilots and crew and hop around on military family flights on aircraft like the old DC3 Dakotas, C130 Hercules and SA330 Puma helicopters. I originally wanted to join the South African Air Force as a pilot, however found my passion in the behind-the-scenes operations with brokering and making flight arrangements happen".
Theon enjoys working in the Chapman Freeborn South Africa office, He works with the wider team to manage all aspects of cargo charter flights, including quoting and booking, and engaging with leads, clients, operators and fellow professionals in the aviation and charter industries. He explains, "Ongoing communication is always vital to our business, and engaging with awesome teams and chasing after competitive options for our clients are my favourite aspects of my role."
Despite being new to the team, Theon is already getting stuck into some great projects. He said, "I am currently working on operations involving construction parts and humanitarian food resources."
Theon is looking forward to cementing Chapman Freeborn South Africa in the African market, "I would like to see us grow to be THE go-to agent in Africa and being the benchmark in the industry when it comes to professionalism, resourcefulness and customer satisfaction. Africa has always been an elusive place that does not stand back from any challenge, and that culture holds endless possibilities for us."