Celebrating Women in Aviation: Claudia Krajhanzl, VIP & Passenger Charter Manager at Chapman Freeborn
To celebrate International Women's Day at Chapman Freeborn we are shining a spotlight on women in aviation. Our Celebrating Women in Aviation series holds space for the experiences of our wonderful colleagues, giving you an insight into how they got to where they are today and their advice for other women and girls considering a career in the aviation industry.
Claudia Krajhanzl has worked in aviation for 16 years, beginning as a flight attendant driven by her love of travelling. She has now been at Chapman Freeborn for 15 months, working as our VIP & Passenger Charter Manager based in Dubai.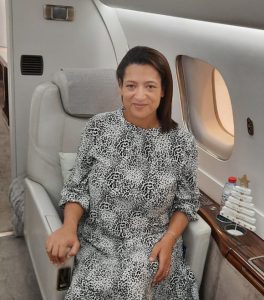 Claudia's role entails overseeing the passenger and VIP team, ensuring the achievement of individual, team and company objectives, but also focusing on building and maintaining strong relationships with clients and operators. She thrives on the unexpected; "My favourite part of my job is the unknown. Despite the number of years I have worked in aviation, I always come across new challenges."
Claudia also enjoys the camaraderie across aviation in general, and the bond shared between aviation professionals who have to stay on top of an industry that is ever-changing and always offers something new to learn.
She believes women must strive to make changes. "Us women have the responsibility to thrive in our roles to help change the current mentality." However, Claudia also thinks that the aviation industry can support this, by ensuring "that the jobs are offered to both men and women – based on candidate skills and not gender".
Claudia recommends that girls considering a career in aviation considering enrolling in an aviation-related degree to get their foot in the door and to work extremely hard to "get yourself noticed".