Chapman Freeborn flies football team HB Køge to their UEFA Women's Champions League match against Arsenal
In August Chapman Freeborn flew Danish elite football team HB Køge for their qualifying match in the UEFA Women's Champions League. This month they are proud to have flown them again, this time for their group stage match against Arsenal.
The passengers comprised of 54 people in total, including the players, team officials and partners. They travelled from Roskilde Airport (RKE), Denmark to London Gatwick Airport (LGW), UK in an Airseven B737-400 aircraft to the match, and two days later made the return journey.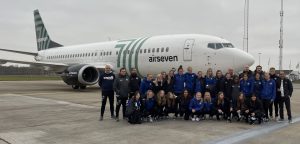 To make the flights memorable and special for the team, Chapman Freeborn Germany Passenger Charter Broker, Bastian Ruchotzke, organised special HB Køge branding for both the interior and exterior of the aircraft including headrests and an aircraft sticker.
Head of Women's Football at HB Køge, Alfred Winther Groth, said, "Thank you to Chapman Freeborn for your help with this charter. Everything went smoothly and we were ready to go ahead of schedule. It's been a pleasure to work with you once again."
With decades of experience in coordinating bespoke itineraries for matches, tournaments and tours, Chapman Freeborn has a proven track record in going above and beyond to ensure our clients' needs are met – whatever the sport and wherever the destination.
Get in touch with the team today by emailing sport@chapmanfreeborn.aero to arrange your next sports charter flight.