City guide: Bordeaux, France | Private jet charter
Located on France's south-west coast, Bordeaux is a foodie and wine-lovers heaven and a superb year-round destination. Hire a car and explore the famous Bordeaux wine route – the region boasts more than 250,000 acres of vines and around 20,000 producers – whose chateaux are open to wine tasting, cookery classes and more.
The lure of St Emilion and other wine-growing areas is attractive, but Bordeaux city itself has many attractions, including Michelin-starred restaurants, slow-food markets, inspiring modern and historical architecture as well as boat rides along the beautiful Garonne river.
Top five must-see sights and attractions
La Cité du Vin
Bordeaux's very own wine museum is one of the most popular Bordeaux attractions and highly recommended. Housed in a stunning wave-like building – designed by architects Anouk Legendre and Nicolas Desmazières at XTU – the museum is located on the banks of the Bassins a Flot district.
This homage to wine takes visitors through a sensory exploration of the history of viticulture in the region, with 20 themed areas devoted to the history and art of wine-making. There are also tours, workshops and panoramic views over Bordeaux from the lofty Belvedere level where visitors have the chance to taste from 20 different vines.
Place de La Bourse
One of the best examples of Bordeaux's stunning 18th century architecture lies along the quays by the Garonne river. Take a walk around the magnificent Place de la Bourse – the centre of Bordeaux's trade and wealth for centuries.
The beautiful Fountain of the Three Graces here is elegantly framed by the buildings of the Palais de la Bourse and the Customs Museum. Originally separated from the river, the railings were taken away to allow this breath-taking connection with the river.
The Miroir d'Eau water installation here (just 2cm deep) is a reflecting pool – replete with mirror and mist effects – designed by Jean-Max Llorca and Michel Coraioud to highlight the surrounding architectural elegance.
Bordeaux food markets
Bordeaux's gastronomic scene and its fabulous food markets are just as popular as its wine tours. Marché des Capucins is open every day of the week except Monday, and located on the Place Capucins. This local neighbourhood favourite is known as the 'belly of Bordeaux' and is the city's largest market. Head here for delicious regional products, wine, fish, great restaurants and cafes and people watching.
Vintage fans will love perusing the Marché Saint Michel, while Le Marche des Grand Hommes is a must for fine produce and located in the Triangle d'Or. Bookworms should make their way to the Marché des Bouquinistes on the Place du Marché Chartrons.
Bordeaux Cathedral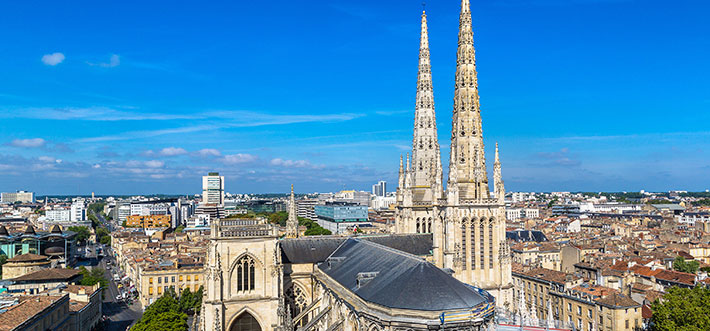 Dedicated to St Andrew, Bordeaux's Gothic 12th century cathedral is a UNESCO World Heritage site located on Place Pey Berland. Best known for its spectacular main 'door of arrows', rose window and free-standing 50m-high belfry, Cathédral Sainte-André hosted the marriage of Eleanor of Aquitaine and Louis VII (the future French King) in 1137.
Each summer the Bordeaux International Organ Festival is held here, while priest Barthélémy Marcade's holy relics are on show here that include items from the 14th to the 17th century.
Bordeaux Wine Route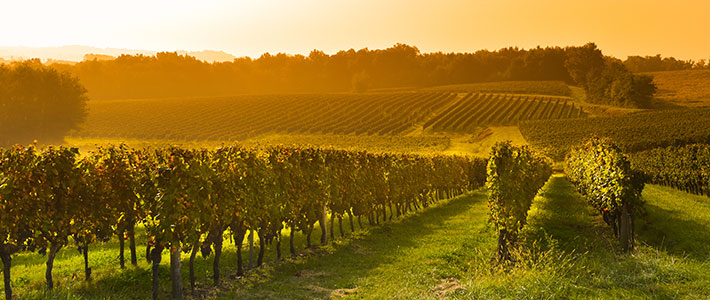 No visit to Bordeaux would be complete without visiting a vineyard or three – even better try the Bordeaux Wine Route where wonderful tasting opportunities await visitors from among 6,000 chateaux, medieval cities, historic villages among ancient Roman churches and ruins.
Bordeaux vineyards have been producing quality wine for more than 20 centuries and are the largest fine-wine vineyards on earth. The diversity of the local terroirs produces award-winning whites, reds and roses to sample on your wine tour – from Sauternes, the UNESCO-listed St Emilion and the Medoc to name just a few.
Best time to visit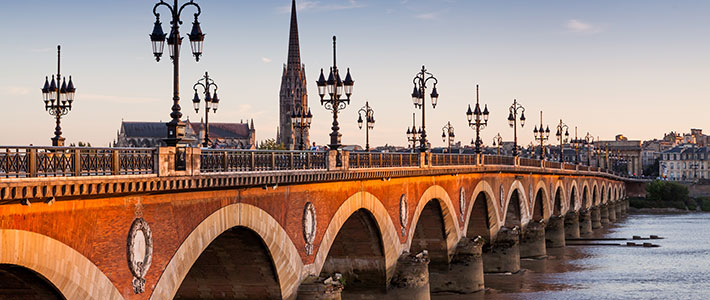 Timing your visit to make the most of the wine-growing season, the best months to visit Bordeaux are between May and November. In late August and September all the action is focused around the grape harvests across the region, while the summer months of June, July and August tend to be fairly hot with mostly sunny days.
Bordeaux's Christmas markets are popular and in autumn and winter the Atlantic winds may roll in – together with rain – but the city can feel very romantic at this time of year.
Getting around
The main sights in Bordeaux are easily navigable on foot but you'll need a car to explore the vineyards. Alternatively hop on a local tram, or hire a bike or a motorised scooter. You can buy a Bordeaux Découverte card at the tourist office which gives unlimited travel on buses and trams. Or buy the Bordeaux CityPass which gives discounted entry at 20 museums and monuments, including the Cité du Vin, unlimited bus, tram and boat travel over 24, 48 or 72 hours.
Final call
Bordeaux and its world-class wine-growing region is a spectacular city break destination. In addition to its UNESCO-listed vineyards the city offers visitors a rich cultural life, world-class galleries and museums – including the world's first wine museum.
Bordeaux's proximity to the Atlantic coast means you can combine city and surf, and enjoy the world's largest sand dune at nearby Dune du Pilat and oyster-eating on the Atlantic coast at Arcachon. Bordeaux boasts a superb selection of luxury hotels, including the Intercontinental Bordeaux Le Grand Hôtel.
For all your private jet charter requirements to and from Bordeaux contact us today.