Get to know Chapman Freeborn South Africa: Introducing Jenny van Wyk, Passenger & VIP Charter Manager
Jenny van Wyk, Passenger & VIP Charter Manager at Chapman Freeborn South Africa, has worked with us for 8 and a half years.
Prior to joining Chapman Freeborn, Jenny had already found her feet in the aviation industry. She began her aviation career in 2003 as Ground Crew for Federal Air, before becoming their Guest Relations & Public Relations Manager. This was her first taste of working with passenger travel, something she has not looked back from. Jenny explained, "I then moved further up the ladder and became a Key Account Manager, where I stayed until the end of 2012. That was 8 years and 6 months ago now and the rest is history. I'm going like a Boeing!"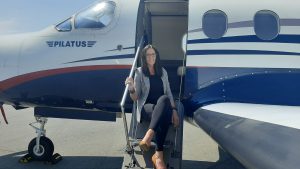 Jenny's role as Passenger & VIP Charter Manager is a varied one. She takes care of inbound requests, putting together quotes and responding to emails at all hours. She is in close communication with clients, phoning them regularly to ensure they are happy and everything is going smoothly for them. She also works closely with Passenger & VIP Charter Broker, Jenna Woods, arranging meetings and making plans for the weeks ahead.
There are many operations that Jenny considers especially interesting to have worked on, but there are a few that stand out for her. "One of the most important I've been a part of was evacuating hundreds of people out of West Africa when Ebola hit. There were many evacuation flights, and we ensured everyone got home safely."
She also remembers flying an enormous incentive travel group over Easter weekend, 1,600 passengers in total.
Jenny also feels privileged to work on charters that are truly meaningful for her clients, such as when she assisted a family in flying back a relative's remains when their flight was grounded due to COVID-19. "We had a very small window of time to get the family and the coffin home to Angola. We pulled it off and the client was very thankful".
These are just some examples of what Jenny works on every day, and what makes up the fast-paced and varied nature of her role that she loves. She also particularly enjoys the collaborative nature of her job and getting to build and coach her team, "Everyone is dedicated and shares the same mission. We all know we are doing something of value every day."
Jenny has big goals for the Chapman Freeborn South Africa team over the next year, and as they grow she is excited to have the freedom and time to be more reactive to the market. She explains, "I can't wait to grow the Africa footprint further and continue building and developing an amazing team. Over the coming year we will carry on prioritising what matters most, and ensuring that, with our help, our clients have perfect charter flight solutions at their fingertips."