The world's largest cargo aircraft | The AN-225 Mriya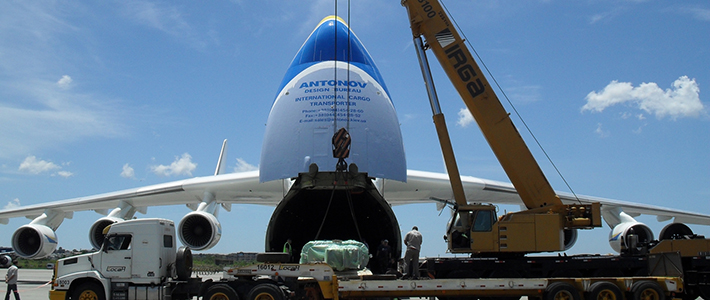 With a maximum payload of over 250 tons and a cargo hold capacity of 1,100 cubic meters, the world's largest cargo aircraft is the Antonov AN-225 – use the world over for enormous air cargo charter projects.
With a cruise speed of 500mph, and a range that enables it to fly for 18 hours without refuelling, the AN-225's outstanding freight capabilities are still second to none. Measured from nose to tail and wingtip to wingtip, the AN-225 is almost the size of a football field. It's six ZMKB Progress Lotarev D-18T turbofan jet engines give sufficient thrust to enable Mriya (Russian for 'dream') a max takeoff weight (MTOW) of 700 tons. The thrust required to get a plane this size off the ground is huge – in the AN-225's case a jaw-dropping 51,590 pounds.
Chapman Freeborn has been involved in some seriously large cargo charter projects utilising the AN-225's unmatched payload capability, including 232 tons of oil and gas equipment to Abu Dhabi and 140 tons of compressors from South Korea to France. We even oversaw the first ever flight of the AN-225 into South America.
During the COVID-19 pandemic, we oversaw the transportation of 110,820kg of COVID-19 test kits, the journey started at Tianjin Binhai International Airport (TSN) where the test kits were loaded, and then onto two stopovers at Almaty International Airport (ALA) in Kazakhstan and Istanbul Airport (IST) before reaching their final destination of Linz Airport (LNZ).
The AN-225's pressurised cargo compartment is massive with a length of 44.32m, width of 6.4m and a height of 4.4m.
Even the landing gear on this mammoth aircraft is impressive with 32 wheels to evenly distribute the Antonov AN-225's weight.
The Antonov AN-225 as a satellite launcher
The largest cargo plane in the world is now back in the space game – helping China to launch its satellites. The Airspace Industry Corporation of China (AICC) has just inked a deal with Antonov that will see the design and development of a new type of AN-225 that will have heavier lifting capabilities. The Chinese plan to use the AN-225 to carry satellites (on its back) and launch from seven miles (12,000m) into space. The satellite launch industry is worth more than $200 billion, a space race the Chinese are keen to profit from.
Antonov AN-225 Specifications
Official Name: AN-225, Mriya
Wingspan: 290 ft.
Length: 275 ft. 7 in.
Height: 59 ft. 8½
Cargo Hold: Length: 141 ft.; Width: 21 ft.; Height: 14 ft. 5¼
Engines: Six ZMKB Progress Lotarev D-18T turbofans each producing 51,590 lb. of thrust
Crew: 7
Max Takeoff Weight: 1,322,750 lb.
Max Payload: 551,150 lb.
Cruising Speed: 497mph
Max Speed: 528 mph
Range With Max Payload: 2,813 miles
Range With Max Fuel: 9,625 miles